Obama State of the Union 2014: LIVE Stream, Updates and Analysis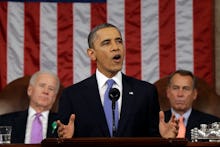 Welcome to PolicyMic's State of the Union 2014 live coverage. As President Barack Obama prepares to make his address Tuesday night, expect a host of major issues to be discussed in this election year.
The president will deliver an "optimistic" address that will look to push Congress towards addressing economic mobility and income inequality — things Democrats believe will resonate around the country and therefore hope to capitalize on in the upcoming midterm elections elections. 
But even if Congress isn't necessarily interested in Obama's plans, that doesn't mean they won't happen anyways. After last year's sequester and minimal policy progress, Obama is also expected to announce plans to utilize unilateral presidential authority, bypassing Congress when necessary, especially on issues such as infrastructure development, free trade, job training, climate change and education. I have a feeling not everyone in the audience will be too happy about that one — maybe we'll be lucky enough to hear some more jeers.
It will also be interesting to see how Obama handles his discussion of the Affordable Care Act. Although the ACA had often been a major part of his past State of the Union address and a cornerstone of his presidency, since the law's role out, a string of problems have hindered the bill's clean implementation. Obama will have to figure out a way to tout the ACA that recognizes its problems but hopefully offers solutions and an accurate explanation of what's happened so far. Also, if the First Lady's guest list is any indication, it's likely that Obama will tackle touchy social issues and push for more concentration on education and technology investment. 
And then there's the rebuttals ... and this year, it really is rebuttals. Shortly after the address, you can expect to hear three separate Republican rebuttals: the official Republican Party response to be delivered by Congresswoman Cathy McMorris Rodgers (R-Wash.), the Tea Party Express response from Senator Mike Lee (R-Utah) and a why-the-hell-not response from Senator Rand Paul (R-Ky.). We probably won't experience the same magic as last year, but you never know what might happen. Stay tuned.