These Lucky College Students Can Now Take a Course On Beyoncé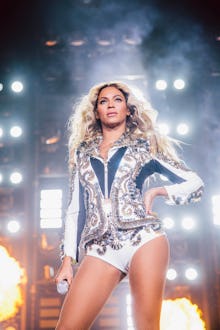 If you're looking for the coolest TA ever, look no further than the PhD at Rutgers who just started teaching a course called "Politicizing Beyoncé."
"This isn't a course about Beyoncé's political engagement or how many times she performed during President Obama's inauguration weekend," says Kevin Allred, a doctoral student and lecturer in the school's Department of Women's and Gender Studies who teaches the class. Rather, the performer's music and career are used as lenses to explore American race, gender and sexual politics. Allred pairs Beyoncé's music videos and lyrics with readings from the Black feminist canon, including the writings of bell hooks, Alice Walker, and even abolitionist Sojourner Truth. We can only dream of lectures spent watching the "Halo" music video and talking about Alice Walker.
None of this is new: Over 900 major universities in the U.S. now offer courses on hip-hop, according to the Hip-Hop Archive at Harvard's W.E.B. DuBois Institute for African and African-American Research. However, these classes are more likely devoted to men and hip-hop proper rather than to a female genre-twisting superstar capable of carrying an entire Super Bowl show on her own.
So how do we begin to politicize Beyoncé's long career? Her politics have always been visible. She hit the scene as a fresh-faced member of Destiny's Child in 1997 with hits like "Say My Name," and "Bills, Bills, Bills," that while presented benignly, portray a subtle message of female empowerment. Then came "Independent Women (Part I)" in 2000, and 2001's album Survivor, with its eponymous single, and "Bootylicious," an anthem about not just accepting, but loving those jiggly parts.
Since then, Beyoncé went solo, releasing five albums to date. She starred in several major motion pictures to varied success, got married; and had baby Blue Ivy. And in the meantime, became everyone's favorite artist, the unstoppable Queen Bey — perfection and discipline made sublime, raking in $53 million this year and ranking as fourth most powerful celebrity, both according to Forbes.
And one thing is for certain, the more successful she becomes, the more directly she courts political commentary on her work. December's surprise monster hit, the visual album Beyoncé — a genius marketing ploy — does not shy away from explicit politics. On the track "Flawless," Beyoncé samples a TED talk from Nigerian feminist and writer Chimamanda Ngozi Adichie, aligning herself with Adichie's self-identification as a feminist, or "a person who believes in the social, political and economic equality of the sexes." In the video for "Superpower," the Black Power fist prominently features and her costume choice suggests a revolutionary fervor new to Beyoncé's oeuvre. She also contributed to the Shriver Report, with an essay "Why Gender Equality Does Not Exist."
Still, Beyoncé is not a perfect feminist icon, and that only makes her more rich for academic discussion. She gyrates her hips, exposes her thong and plays stripper/prostitute for her husband in "Partition" in which an objectified and submissive Beyoncé becomes the ultimate male fantasy.  
In "Drunk in Love," her husband's rap cameo, he refers to a disturbing moment in the 1993 Tina Turner biopic, What's Love Got to Do With It?: "I'm Ike Turner Turner / You know I don't play / Now eat the cake, Anna-Mae / Eat the cake Anna-Mae," he raps with his expected bravado. Yet this isn't exactly the feminist awareness we've come to expect from Bey, Jay Z alludes to the part in the film when Ike Turner smashes cake into her face and slaps a backup singer who tries to defend her. After the violence a roadie says, "Eat the cake, Anna-Mae." (What makes it worse was that Beyoncé was practically shouting the lyrics during her Grammy performance with Jay-Z on Sunday.)
She also received criticism for her $50 million deal with Pepsi after publicly supporting Michelle Obama's healthy living "Let's Move" campaign.
All this amounts to a complex vision of Beyoncé as a political figure — one worthy of the attention and discipline of an academic study. Now, let's all go back to college.