This Niqab-Wearing Tech Whiz is Smashing the Glass Ceiling in the Middle East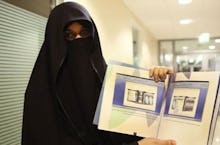 This Arab woman just reinvented the way we use PowerPoint, and it's catching everyone's attention.
President Barack Obama recently sent an Emirati woman named Fatima Jasem Al Zaabi an invitation to dinner at the White House in recognition of her work with Microsoft PowerPoint. The 31-year-old innovator has found a way to use PowerPoint to create architectural designs for homes. 
The coolest part of it all? She taught herself everything she needed to know about computer programs and technology. With only a high school diploma, Al Zaabi used her eye for technology to truly reinvent the wheel: She came up with a PowerPoint model that everyone can use to draw their ideal home, without having to enroll in a professional course. Microsoft and Google even recently approached her in talks of buying her program.
Talk about a revolutionary woman.
In a recent interview with Gulf News, Al Zaabi shared her achievements, motivation and future plans, shattering the commonly-held stereotypes that people have of niqab-wearing women.
Here's a badass quote from her interview:
"When I go to the US, I want to project the image of women in the Arab world. There is a preconception of what veiled women can do, and in the West, they think that our capabilities are limited. I made a personal decision about five years ago to veil my face, and I want to show everybody that it has not limited me in any shape or form," she said.
She went on to talk about how women in the United Arab Emirates are empowered, not undermined — something that mainstream Western media outlets rarely capture in their depiction of Muslim women.
"I want to show the rest of the world how empowered women in the UAE are, and that since the country was founded, the late Shaikh Zayed Bin Sultan Al Nahyan had made it a mission to eradicate women's illiteracy and empower women," Al Zaabi said.
Among Arab countries in the Middle East and North Africa, the UAE has the narrowest gender gap, making it a leader for women's rights in the region. According to the World Economic Forum's 2013 Global Gender Gap Report, the UAE has set a precedent for equality by investing in education and garnering success for women in political and economic participation. The report demonstrates that there is a distinct factor in economic gender equality, and that is education. For countries that provide this basic human right, women's assimilation and advancement in the workforce become the next stepping stones to progress.
There are so many women like Al Zaabi who are smashing the glass ceiling across the Middle East. The best part of it all is that their clothing preferences have nothing to do with it.