Super Bowl XLVIII: Live Stream, Weather, TV, and News Updates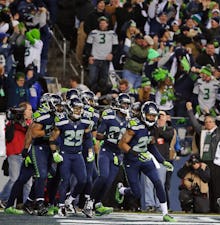 It's finally here: the big one, the championship, the game to end all games ... Super Bowl XLVIII. The Seattle Seahawks of the NFC will be facing the Denver Broncos of the AFC in what promises to be an exciting game. 
The Denver Broncos went 13-3 to handily lead their conference and division. With an explosive offense led by quarterback Peyton Manning, the Broncos put up an amazing 606 points this year and allowed only 399, resulting in an astonishing point differential of 207 (for reference, the worst team this year in that category, the Jacksonville Jaguars, had a point differential of negative 202).
Coming out of the NFC West, the Seattle Seahawks also went 13-3 in dazzling fashion. Their point differential of 186 wasn't quite as high at the Broncos, but it was second in the league. Plus, where the Seahawks really shine is in their defense, which allowed a league best of only 231 points all season (for comparison, the league's worst team in the category, the Minnesota Vikings, allowed 480 points). 
In case those numbers aren't clear, here's the point: this year's Super Bowl is a clash of the league's best defense with the league's best offense. But that's almost selling it short. In reality this is a match-up of the best offense in NFL history with the 10th best defense in its history. And yes, first best is better than 10th best, but the margins are so slim, that being ranked anywhere in these numbers is very impressive. Expect big things on Sunday. 
Also, even though both teams hail from state where recreational marijuana legalized, that doesn't mean players will be stoned on the field ... although if they were, it wouldn't be the first time.
When the NFL first chose New York to host Super Bowl XLVIII, some were immediately concerned about cold and snow. But even though New York has been dealing with its fair share of polar vortexes lately, the forecast is looking pretty good so far (or at least as good as it can for New Jersey in February). Weather.com is predicting a high of 47 degrees during the day and a low of 26 degree at night with a 0-10% chance of precipitation. The teams both come from some of the NFL's colder cities, so the players will likely be alright, but fans attending the game should be careful. 
And so if you are going to be lucky enough to spend Sunday night at MetLife Stadium, how are you actually getting to the game? Well, you're not going to be walking or being dropped off and picked up or taking a taxi or even driving your own car and parking outside the stadium. No, the NFL, in its infinite/money-grubbing wisdom and citing "security concerns" is allowing fans to park in one of the NFL's nine designated "Fan Express" zones around New York and New Jersey and pay $51 for a shuttle ticket to the stadium (although they're now mostly sold out). Fans will also be able to take New Jersey transit, but the crowds will be likely be as hellish as any nightmare you could imagine. 
But what if you're one of the nine out of 10 Americans who will be watching the game at home — either your home or a friend's. All coverage will be on the FOX Network, which will begin its pregame show at 2:00 p.m. EST. The four hours of coverage will likely touch on a number of story lines ranging from New York City football history to what will surely be some awkward celebrity red-carpet interviews outside the stadium to hopefully some actual discussion of the game. Kick off is scheduled for 6:25 p.m. EST. Based on past trends, it's likely that roughly 100 million people will be watching the game, although the vast majority will be in America and not anywhere else. And with those numbers, it's no surprise a 30-second ad will cost around and above $4 million.