Rest in Peace, You Glorious Bastard — the World is A Little Less Fluffy Without This Guy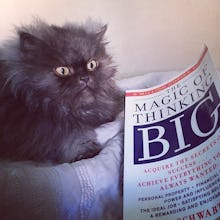 A small but vibrant light has faded from the universe. I speak, of course, of one Colonel Meow, the stern but majestic feline celebrity who passed away on Thursday night. Meow, a Himalayan Persian cat who will long be remembered for his Guinness World Record-breaking mane, was diagnosed with heart difficulties in November, but prevailed until last night, thanks in no small part to the dedicated and loving ministrations of his humans, Seattle residents Anne Marie Avey and Eric Rosario. Despite his profound gravitas and bearing, Meow was a mere 2 years old. He is survived by Avey, Rosario, a golden retriever named Boots, and his fellow long-haired cat, The Brawd.
Meow's passing marks the first major death of a feline Internet celebrity, giving us pause to reflect on the peculiar phenomenon that vaunted him to fame. Though Meow was just one cat among millions, an outpouring of sympathy in the form of tens of thousands of comments has made its way to his Facebook wall, news outlets around the world are reporting on his passing, and the Twitter feeds and Instagram pages of Meow's feline colleagues are filled with condolences. What will become of Meow's so-called "minions" remains unclear, as does Meow's understanding of his profound impact upon the world.
We present the following photos and videos in memory of Meow's short but brilliant life. Please hold your pets tight, and join us in raising a glass of Meow's beloved Johnny Walker Black to both the hirsute military officer and the joy that he brought to so many lives. Hopefully, somehow, somewhere, the tiny commander continues to cast his disapproving, judgmental, and stormy gaze upon us all, if only because he knows we have the potential to be so much more.
1. Colonel Meow will be remembered for his distinctive gaze.
2. ... his cunning nature ...
3. ... his world-record-length fur ...
4. ... and his quest for world domination.
5. Meow was a cat of distinctive tastes ...
6. ... and, let's say, distates.
7. The tiny military commander's influence ranged far and wide.
8. Meow will be remembered not only by his colleagues ...
9. ... and his companions ...
10. ... but the adoring public ...
11. ... that he so inspired.
12. We can only hope that, somehow, somewhere ...
13. ... he continues to watch over us ...
14. ... and demand better from the world.