Watch 'SNL''s Hilarious Super Bowl Halftime Show That Bruno Mars Needs to See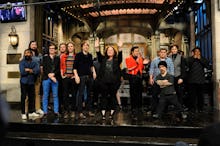 Move over, real Super Bowl: SNL came out of the gate punching last night with a replacement halftime show that's absolutely fabulous. The sketch imagines a world where the booked talent is rerouted because of the polar vortex and the best of Broadway has to fill in. 
There's dancing, there's singing, there's Super Bowl rings, there's confetti, there's love.
Watch it now:
From Jay Pharaoh's killer Michael Strahan impression to John Milhiser's Tommy Wiseau-esque football, it's a silly, irreverent and exceedingly well executed mini-musical. It's rare to see the host in the Cold Open, but three-time show veteran Melissa McCarthy performed a hilarious turn as Mama Pass. However, the real star here is Taran Killam as a Peyton Manning reminiscent of Will Ferrell.
In real life, you can watch Bruno Mars and the Red Hot Chili Peppers perform at the halftime show later today (or a bunch of kittens doing nothing if you're a Puppy Bowl person), and it'll certainly be solid — Bruno Mars is an impressive performer — but I think we'll all be wishing it was a bit more like this.
Saturday Night Live returns March 1st after the Olympics.