What Philip Seymour Hoffman Was Working On When He Died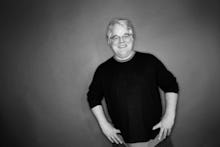 Philip Seymour Hoffman died Sunday afternoon reportedly of a drug overdose. He was one of the most revered and gifted actors of his generation. If the guy did a movie, it was guaranteed to be good — if not great. 
Still firmly in his prime, Hoffman was working on several projects at the time of his death, including two Hunger Games films and the Showtime series Happyish. Despite facing production challenges, both films will be released as planned, but Hoffman's TV show faces a more uncertain fate.
'The Hunger Games: Mockingjay Parts 1 & 2'
Hoffman spent the majority of his career taking turns in artistic, low-budget films, though he did accept a supporting role in the blockbuster Hunger Games franchise. Playing the part of Head Gamesmaker Plutarch Heavensbee, Hoffman first appeared in Catching Fire, and was set to reprise his role in the two-part Hunger Games finale, Mockingjay.
While Hoffman is said to have finished shooting his Part 1 scenes, he still had a week of filming left on Part 2. His character, Plutarch, plays a critical role in the last two movies, leaving director Frances Lawrence with the difficult task of working around Hoffman's untimely death. Both Hunger Games films will require only modest rewriting (mostly Part 2) and are still scheduled for release in November 2014 and 2015 as originally planned.
Lionsgate released the following statement after Hoffman's death:
"Philip Seymour Hoffman was a singular talent and one of the most gifted actors of our generation. We're very fortunate that he graced our Hunger Games family. Losing him in his prime is a tragedy, and we send our deepest condolences to Philip's family."
'Happyish'
Hoffman was also in the midst of making a real foray into television. In January, Showtime announced that it had green-lit Happyish, a dark comedy starring Hoffman as an aging ad executive struggling with his mortality and the pursuit of happiness. 
While Showtime has yet to make a decision about the series' future, Happyish — which was was given a 10-episode order — was centered around Hoffman's considerable abilities as an actor. Showtime pursued the talented thespian for more than a year, leaning heavily on his reputation to drive the series.
As far as the show's fate is concerned, you don't exactly have to be an expert at reading between the lines to realize Happyish is probably getting axed. 
"It is hard to imagine a way in which it could go on," a source close to the production told E! Online. "His role would have to be recast and there weren't any other actors in serious consideration aside from Philip. If the show does move forward, the premiere would be delayed as [the] pilot would need to be reshot."
Hoffman also recently sold two films — God's Pocket and A Most Wanted Man — at Sundance, and was set to direct Ezekiel Moss, starring Jake Gyllenhaal and Amy Adams.