If You're Commuting on the Moscow Metro, You Will Have Some Unusual Companions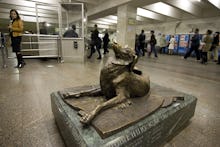 "In Moscow there are all sorts of stray dogs, but … there are no stupid dogs."
Dr. Andrey Poyarkov is talking about the capital city's approximate 35,000 stray dog population. They're everywhere — from markets to construction sites to underground passageways, scavenging for food.
But a small fraction of the strays do more than sniff around on the surface. They go below ground, navigating the city's sprawling subway system. "The street is tough and it's survival of the fittest," Poyarkov, who has studied Moscow's strays for 30 years, told ABC News. "These clever dogs know people much better than people know them."
Unlike most domesticated dogs, the "commuter dogs" travel amid the Metro's loud noises and hordes of people — distractions that are a challenge for even people to deal with. Strays are so commonplace on the Metro that commuters don't seem to notice them. ABC News followed a female stray and "barely managed to follow her as she zipped between the legs" of fellow travelers as she caught a ride on the Koltsevaya Line. Once boarded, "she settled down on the floor among the feet and legs, even dozed a bit." 
The subway dogs even have their own statue in one station which commemorates Malchik, a stray who was stabbed by a fashion model in 2002 who didn't like it when Malchik barked at her terrier. Passersby now rub the statue's shiny bronze nose for good luck.
Despite the intelligence of many of Moscow's homeless dogs, Muscovites still see them as a big problem. But even sterilization campaigns and city dogcatchers have had little effect on the overall stray population. Ahead of the Sochi Winter Olympics, animal rights activists are up in arms over the news after it was revealed that city officials have ordered more stray dogs to be exterminated for the duration of the Games, the owner of a pest control company told ABC News.