The 9 Surprising Countries That Can Out-Drink America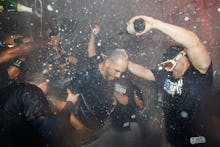 Alcohol is part of the fabric of daily life in many countries — but where are the places where people do it the most?
The answers might surprise you. In a recent study, Euromonitor examined the average amount of liquor consumed by a person of drinking age.
But the top country on the list wasn't one of the usual suspects that we might stereotypically associate with a heavy drinking culture: in South Korea, people drink more than anywhere else in the world. The average drinker throws back a whopping 13.7 shots per week.
Russia comes in second, but still far behind South Korea, with 6.3 shots per drinker a week.
So how does the U.S. rank? We're 10th on the list, with the American drinker consuming an average of 3.3 shots per week — putting us ahead of the United Kingdom, France and Ireland. 
Here are nine countries that can drink the United States under the table:
1. South Korea
South Koreans love soju. The traditional fermented rice spirit accounts for 97% of the country's liquor market. A shot of soju is one of the quickest ways to build friendship to many South Koreans, who work some of the longest hours in the world. 
But of course, problems stemming from being No. 1 in world liquor consumption have been costly. Their ministry of health and welfare, and even Samsung, have attempted to curb drinking and ensuing outbreaks of violence via marketing campaigns and other anti-drinking efforts.
2. Russia
Ah, there it is. Ranking No. 2 in the world's heaviest liquor drinkers, the average Russian drinks 4.75 gallons of pure alcohol a year, mostly in the form of vodka. It's impolite to refuse a drink there, where shots are downed with meals. After all, vodka is derived from the Slavic word for water, voda.
3. Philippines
No. 3 on Euromonitor's list is the Philippines. Filipino festivities are incomplete without alcohol. Generally, beer is a favorite there, followed by wine and lambanog, or coconut whiskey. Lambanog is considered a poor man's drink, popular among farmers throughout the Philippines due to the country's bountiful coconut trees and rather inexpensive distilling process.
And when they're not partying, many Filipinos hang out together in front of their houses and convenience stores drinking gin and tonics. In recent years, Filipinos have adopted a more western approach to drinking — portraying it on TV as sexy and glamorous — along with the associated problems. The country's drinking age is 18, but due to lax monitoring, minors still buy booze. 
4. Thailand
In Thailand, the average drinker consumes 4.5 units of alcohol a week. 
Known for its legendary beach parties, visitors from around the world are drawn to Thailand to party. Particularly well-known is the Full Moon beach party, which takes place in Kol Phangan, an island in the Gulf of Thailand.
The country attempted to curb alcohol consumption through a hike in taxes last September. Drinks giant Diageo took a hit in sales after the tax increase, also because of the country's ongoing unrest and a weaker economic situation. The drinking age is 20.
5. Japan
Public drinking and intoxication are perfectly legal in Japan, ranked fifth. Much like South Korea, working men and women drink well into the night with their co-workers and bosses, a mark of company loyalty and seen as just part of the job. These stereotypical Japanese businessmen account for 60% of the country's problem drinkers, according to a study by the Leisure Development Research Centre in Tokyo. 
6. Bulgaria
The legal age for buying alcohol in Bulgaria is 18, although there is no set age for consumption. Coming in sixth on the list, the average Bulgarian drinker consumes 3.9 units a week.
Rakia, an alcoholic drink made of distilled fermented fruit, is considered to be a national drink of Bulgaria as well as other parts of Southeastern Europe.
Bulgaria has also been producing wine since the Stone Age, and in more recent history, it was quite popular before being crushed by Australia and Chile. Some speculate that it's making a comeback. 
7. Slovakia
The beautiful, tiny nation of Slovakia has an average alcohol consumption of around 3.8 units a week.
Slovakia has a growing drinks industry, according to Euromonitor.
The country has zero tolerance for drinking and driving, and has a legal alcohol limit of zero for drivers.
8. Ukraine
In Ukraine, the average drinker consumes 3.9 units a week. Horilka, a Ukranian vodka, is a popular drink. It's quite strong, produced typically with 40% alcohol by volume.
In addition to being known for its vodka, Ukraine also has a long-standing tradition of wine production. Wine production in the Ukraine first began in the 4th century B.C. Under the Soviet Union, Ukraine was the largest supplier of wine throughout the USSR.
9. Brazil
Ranked ninth, the largest country in South America also boasts the continent's hardest drinking culture, and beer is king. Drinking is an essential part of festivals, parties and events like Carnival and soccer games. Such laws that prohibit selling alcohol to minors or people who are visibly intoxicated are rarely enforced. And unlike the U.S. where "dry counties" still exist, Brazil does not regulate alcohol availability such as hours and days of sale, density of alcohol retailers and licensing.