Ever Wonder How J.K. Rowling Kept Track of Everything in 'Harry Potter'? Look At This.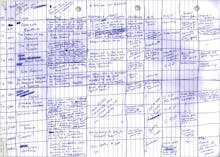 Ever think Ron and Hermione just weren't made for each other? Well, haters, you're in good company.
The creator of the super popular series herself, J.K. Rowling, recently revealed to Emma Watson that she agrees that the two should not have gotten together. "For reasons that have very little to do with literature and far more to do with me clinging to the plot as I first imagined it, Hermione ended up with Ron," Rowling says in the interview with Wonderland magazine.
So, what was the plot as she "first imagined it" anyways? It's worth revisiting a spreadsheet the author made during the writing of Harry Potter that she released to fans five years ago:
On the handwritten spreadsheet, Rowling divided columns by chapter number, story timeline, chapter title, main plots and subplots. There are certainly some differences from the final versions of the books — like Umbridge having the first name Elvira rather than Dolores — but Rowling clearly had a strong vision of where her series was going to end up all along. In an era when the fate an ongoing series is often undecided — we're looking at you, George R.R. Martin — perhaps one of the reasons Harry Potter is so beloved is due to its careful plot delineation and satisfying ending.
Still, the author's proclamation about Hermione and Ron may be a shock and disappointment for hardcore fans of the couple.