What Barbie Looks Like in 5 Other Countries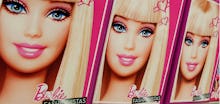 When the Jennifer Lopez Barbie doll was released, its flat silhouette left many unimpressed. The collector's doll lacked the star's signature curves and didn't align with her body-positive image. Fans were understandably upset by the failure of toy manufacturer Mattel to capture Lopez's "true essence." 
This week, Fast Company released an interview with Barbie's lead designer Kim Culmone in which she defended the iconic doll's unrealistic proportions. Culmone, vice president of design, said Barbie's body "was never designed to be realistic." And that it was "designed for girls to easily dress and undress" and "accommodate how the clothes will fit her."
She denied the doll's influence on body image, instead placing this responsibility on friends and family.
While the iconic Anglo, tiny-waisted, blond and blue-eyed doll struggles to stay relevant as Barbie sales have been in decline for some time, she faces some fierce competition with different beauty standards overseas.
1. Nigeria's Queens
In Nigeria, the "Queens of Africa" and "Naija Princesses" dolls reign, not Barbie. The dolls are adorned in traditional Nigerian garb — dresses and "geles," traditional head gear.
2. The UAE's Fulla
A doll called Fulla, created by a UAE manufacturer, is geared towards a more Islamic alternative to Barbie. Fulla is sold in many parts of the Arab world, as well as China, Brazil, Indonesia, and the United States. 
 Fulla is outfitted in a hijab and comes with her own pink felt prayer rug. In Egypt, her wardrobe includes jeans.
3. Japan's Licca-chan
Licca-chan's cute features and detailed personal information — including hobbies, favorite books and family history — have helped her eclipse Barbie in Japan since her 1967 release. 
4. Britain's Sindy
The wholesome and demure British alternative to Barbie, Sindy, was the U.K.'s most popular doll at her peak in 1985. In a weak attempt to compete with Barbie, Sindy received a makeover that made her look like her sexier American rival, prompting years of legal battles with Mattel. 
5. Brazil's Susi
Created by Brazil-based company Estrela, the original Susi's dark skin and wide thighs reflect Brazilian girls better than Barbie does. But after Susi's 2007 relaunch, her legs and waist were slimmed and her breasts appeared fuller.