Watch the Trailer For the Way-Too-Soon Amanda Knox Movie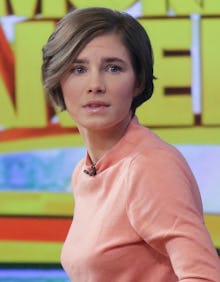 Amanda Knox was just sentenced to 28 years of imprisonment for murder. That sentence was handed down last Thursday. And now Amanda Knox is also the subject of a film starring Kate Beckinsale and Daniel Bruhl. That trailer hit the Internet on Monday.
Who says film making is tedious?
The trailer is really a teaser — it's short and nondescript. The take-away is more or less that Beckinsale and Bruhl in a true story murder mystery will be great. But for anyone who follows the real, continuously unfolding Amanda Knox story, it feels odd.
Making films based on true stories can be tricky since their outcome is already known — it takes a lot of creativity to keep a known story interesting.
But this film faces a much rarer problem. Amanda Knox is now going to be tried by the Italian Supreme Court in Rome. Any movie starring Bruhl and Beckinsale will grab attention, and this movie will invariably affect how we perceive of what is yet to happen with this trial. But there's an even tougher part of this to reconcile.
Films made about real life tragedies like this — films similar to the 9/11 movies or Prosecuting Casey Anthony — abuse downtrodden individuals for financial gain to some extent. They manipulate the free publicity of news to draw people's attention to a sensationalized portrayal of the narrative. Done properly, they can enlighten and reconcile, but the line between these films and journalism is difficult to draw. Yet it's especially essential in a case where real facts aren't yet known.
With Amanda Knox going back to court, safe to say this is a bit too soon.