The Latest Way George Zimmerman is Making a Mockery of Justice is Shocking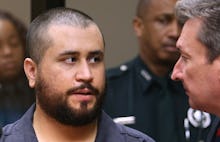 Since his acquittal for Trayvon Martin's murder in July 2013, George Zimmerman has shamefully chosen to repeatedly thrust himself back into the public eye. The latest news is that he'll be facing off against DMX. That's right: Zimmerman is set to box DMX for a celebrity tournament to raise money for charity.
Some will no doubt tune in in hopes that he'll receive a sanctioned beatdown, the kind of retribution that our justice system was never able to deliver.
The match was apparently Zimmerman's idea. "Prior to the [Trayvon] incident, I was actually going to the gym for weight loss and doing boxing-type training for weight loss," he told Radar. "A mutual friend put me in contact with Damon [Feldman, owner of Celebrity Boxing] and provided me with an opportunity and motivation to get back in shape and continue with my weight loss goals and also be able to help a charity out." After receiving more than 15,000 e-mailed requests from people wishing to fight Zimmerman, Feldman announced on Wednesday that it would be DMX.
This isn't the first time Zimmerman has thrusted himself in front of — rather than, say, show remorse to — the media and general public. In December, a pro-America painting by Zimmerman appeared on Ebay, eventually selling for about $100,000. (The painting featured a blue, American flag with the words, "God, one nation, with liberty and justice for all" superimposed on it.) Another Zimmerman painting is of the Florida prosecutor that charged him with second-degree murder.
And then, of course, in November, he was involved in a domestic dispute with his girlfriend that resulted in his arrest. Charges, however, were eventually dropped.
Zimmerman is a lightning rod who will seemingly do anything for money and attention. Rather than give up fighting, he takes the public stage to fight another black man. His antics are nothing short of insane. No doubt DMX will channel the outrage we all feel.
The rapper told TMZ he would fight for "every black person who has been done wrong in the system. I am going to beat the living fuck out him. I am breaking every rule in boxing to make sure I fuck him right up." He also threatened to urinate in his opponent's face if he won.
Good luck, George.