One Man Has Written Virtually Every Pop Song of the Last 10 Years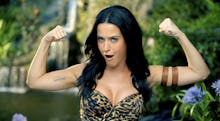 In 2013, three songs dominated the pop charts: "Wrecking Ball" by Miley Cyrus, "Roar" by Katy Perry and "Timber" by Pitbull and Ke$ha. These songs were all huge hits, and they had one other thing in common: they were written by the same man.
That man is Dr. Luke, and he is arguably the greatest pop songwriter of our time. In honor of his epic year, we give you nine of his greatest songs — all of them epic female anthems that have come to define a whole new pop sound:
1. "Since U Been Gone" by Kelly Clarkson (2004)
Dr. Luke wrote "Since U Been Gone" first for Pink and then for Hillary Duff. Luckily, it fell to Clarkson, who was itching to take on a harder rock edge. That roaring guitar riff would soon come define a generation, and Clarkson's soaring vocals provided the perfect antidote for anyone going through a breakup. She had never sounded mightier in her career.
2. "U + Ur Hand" by Pink (2006)
Pink hit her peak nastiness level on "U + Ur Hand," the single that cemented her staggering mid-career revival. Between the aggressive drumming, the AC/DC guitar riff and Pink's furious panting, the message is clear: Get out of this woman's way.
3. "Hot N Cold" by Katy Perry (2008)
Everything about this song sounds like it was perfectly programmed by a computer (or a mad scientist named Dr. Luke) to dominate radio. But it hardly matters when you have a melody this catchy, and a singer as defiant and talented as Perry. It could have been released any year after 1959 and gone straight to number one: Perry's cutting rebuttal to an indecisive man is timeless.
4. "Party in the U.S.A." by Miley Cyrus (2009)
Dr. Luke specializes in makeovers, and this was his first contribution to seriously altering Miley Cyrus' image. Here, he ushers Hannah Montana into the next stage of her career with a slick, summery guitar riff that screams, "I'm a California girl!" "Party in the U.S.A." seemed like a big leap for Cyrus at the time, but really it was a perfect transition for a child idol trying to make it on her own as an artist and throw her hands in the air.
5. "Where Have You Been" by Rihanna (2011)
There's hardly any melody or song development in "Where Have You Been," but that's beside the point. Dr. Luke converts the timeless blues wanderer theme — passed down through generations of hard touring acts like Johnny Cash, Nina Simone and the Allman Brothers — and brings it straight to the nightclub of the next generation. Never has a dance anthem sounded so lonely, desperate or apocalyptic.
6. "Primadonna" by Marina and the Diamonds (2012)
On her lead single, the pixie chanteuse Marina attempts to poke fun at LA culture and all the self-absorbed starlets that go with it: "I know I've got a big ego … fill up the void with celluloid."
But while Dr. Luke is in on the joke, he also gives her all the force of his brand of pop pageantry. Through huge synthesizers, a stomping beat and an epic melody that could have been sung by Madonna, Marina becomes the greatest prima donna pop queen herself.
7. "Wrecking Ball" by Miley Cyrus (2013)
Most of the attention for "Wrecking Ball" goes straight to Miley and that music video. What people have been missing is that it's a damn good song. The chorus packs the punch of any classic '80s power ballad, and the two sections of the song show the two sides of Miley's voice incredibly well.
8. "Roar" by Katy Perry (2013)
The first time the world heard Perry's newest anthem was at the 2013 VMAs, when she taped up her hands and threw punches into the New York night. Co-written with Dr. Luke, her chorus hook more than any other song encompasses the sound of female empowerment sweeping radio: "You're gonna hear me roar."
Dr. Luke's production matches Perry blow for blow: the agile piano mimics a boxer's feet dancing around the ring, and each snare hit packs the punch of a heavyweight champion.
9. "Boats N Hoes" off the 'Step Brothers Soundtrack' (2008)
Okay, this one isn't exactly a hit by a female artist — it's really the ultimate man-child song for the ultimate man-child movie. But if this doesn't make you fully appreciate Dr. Luke, nothing will.
And look out for the sequel, hopefully coming soon to a harbor near you.