The Powerful Pro-LGBT Olympics Anthem That Putin Needs to See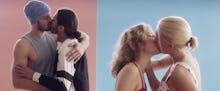 Tonight is the opening ceremony of the Sochi Olympics, and the world is about to be exposed to Sochi's horrible anti-LGBT attitudes. This morning, a Norwegian pop star fired back in the greatest way possible: an irresistibly danceable pro-LGBT anthem called "Russian Kiss."
The Grammy-winning Pitchfork-acclaimed Norwegian pop star Annie has just launched the greatest attack on the travesty that is Russia's anti-gay legislation. The song is called "Russian Kiss" and features lines like "Show your love for the lovers / The others / The fighters / Outsiders / People like you." It's all pretty sensual and epic — it has its fair share of groaning during the breakdown, too. Dancing to this in the gay clubs in Sochi that definitely do not exist seems a pretty incredible way to protest.
The song comes with an accompanying short film, created in collaboration with New York-based, Norway-raised visual artist Bjarne Melgaard — the man behind the infamous "Black Woman Chair" — and directed by famed underground NYC photographer Richard Kern. It's guaranteed to be fairly controversial and equally powerful.
"Russian Kiss" is a rallying cry — a way to keep dancing; to keep fighting back.
Annie and Melgaard are responding to recent legislation passed by the Putin administration that makes it illegal to present "nontraditional relationships" in a positive light. Since they consider gay relationships as nontraditional, same sex kissing in public incurs a heavy fine or an egging. It's a terrible and ridiculously archaic system. This song, however, is powerful because it portrays all kinds of love in equally positive light.
On her website, the singer wrote a mission statement about the song: "The subject is the universal right to kiss the one you love wherever you like, regardless of sexual orientation ... The Winter Olympics are not just skating styles, waxing techniques and jump lengths." They're a measure of where we as a global society stand on the most important issues of our time. Issues like whether we can finally treat LGBT love the same as heterosexual love.
Like all of Annie's music, her new song is bouncy, fun and extremely danceable — a perfect complement to the stiff, regal (and occasionally completely ridiculous) Russian anthems that will be droning over the athletes as they enter the opening ceremonies.
But arrests of pro gay-rights advocates in Sochi have already begun. One advocate was taken into custody a few weeks ago for waving a rainbow flag at a stage of the Olympic torch relay. His arrest will not be the last. "Russian Kiss" is a rallying cry — a way to keep dancing; to keep fighting back.