Follow These 10 Olympian Instagrams for the Best Behind-the-Scenes Look at Sochi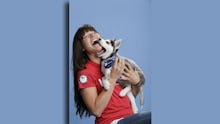 NBC strives to provide us with the latest in Olympic news from Sochi, but the cameras can't be everywhere. So for all the action, we can go to the athletes directly. Following these awesome Instagram accounts will give you a firsthand look into the world of an Olympian in the heart of Mother Russia.
1. Shaun White (@shaunwhite)
Of course America's ginger darling has to be on here! Though he withdrew from the men's slopestyle due to a dangerous run, Shaun White is still our main man. Thus far, he has been providing a truly American window into the life of a Sochi Olympian with his shots of the copious amounts of fast food that any athlete will admit to indulging in on occasion. We may have missed the Flying Tomato speeding downhill of late, but his Instagram is certainly not going in that direction.
2. Jamie Anderson (@jamieandersonsnow)
Ever wonder what it's like to shred some fresh powder on a board? This is your gal. Jamie Anderson brought home X Games hardware at the spry young age of 15. The American snowboarder has some breathtaking shots on her profile that get you right up in the wintry "gnar" that so many extreme sportsmen fail to describe. She also has some great POV videos that give an excellent perspective of the technicality required of this unique sport.
3. Greg Bretz (@gregbretzz)
This 2008 World Cup champion out of California can hold his own — both on the powder and on the 'gram. Considered a prodigy in his own right, the kid commands a serious social media presence. Some of his Instagram content basically consists of him tearing it up music video-style to the Rihanna and Eminem. Not too shabby, Greg.
4. Russ Henshaw (@russhenshaw)
I'm as patriotic as the next guy, but we can all admit to having our foreign favorites in the Olympics from time to time. Henshaw is an Australian native and a 2011 X Games silver medalist. Besides having a really cool accent, this guy takes a mean selfie.
5. Lolo Jones (@lolojones)
Wait, isn't Lolo Jones a hurdler? You're not wrong there. She was recruited after the London Olympics as a bobsledder, and she has taken her talents to Sochi. Remember how your guy friends wouldn't stop going on about how this star-spangled smokeshow was steaming up the track in 2012? Well fellas, she'll be melting the ice in 2014, so you might as well break down and get an Instagram account.
6. The Lamoureux Twins (@miniquelam7 and @jocelyneusa17)
This is a two-for-one special, folks. These twin sister forwards for the U.S. women's hockey team brought home silver in 2010 and will provide you with some golden shots of their 2014 Olympic experience.
7. Keri Herman (@keriherman)
Just look at that shot with the puppy. You simply can't say you don't want more of that. Herman bought her ticket to the Sochi Olympics with a second place finish at the U.S. Grand Prix slopestyle. She bought her ticket to my heart with that puppy.
8. Hannah Teter (@hannahteter)
These athletes are crushing it with the selfies. Teter is no stranger to the Olympics, having brought home gold in the 2006 halfpipe event and silver in 2010. This bohemian blonde out of Vermont may have some racy pics online, but she appeals to all audiences with her striking snowscapes on Instagram.
9. Hege and Håvard Bøkko (@hegebokko and @havardbokko)
I don't know if their names gave it away for you, but these siblings aren't from the U.S. The Norwegian speedskaters are making their debut as a family at this year's games. Håvard snagged the 1,500 meter bronze in the 2010 winter games, but his little sis is digging her blades into Olympic ice for the first time. Hege is a particularly consistent Instagrammer, and she even shared a picture of her chipped teeth after a nasty wipeout.
10. Aja Evans (@ajalevans)
Another track athlete turned bobsledder, Evans is an Instagram workout fiend. Her high number of followers on Instagram mirrors our high hopes for her success on the U.S. bobsled team. Oh, and did I mention that her brother is Minnesota Vikings defensive tackle Fred Evans? You might say athletics is a family trade.