Watch: Russian Police Choir Deserves a Gold Medal For This Hilarious Version of "Get Lucky"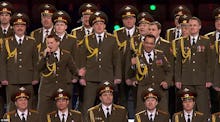 Although Sochi's Opening Ceremonies were filled with plenty of fun and excitement, one moment in particular clearly stole the show: the Russian Police Choir performing a rousing rendition of Daft Punk's "Get Lucky." Simply put, it was awesome.
Hoping to appeal to the games' global audience, the choir chose one of last year's most popular songs and actually did a pretty good job. Well, at least they were entertaining. 
The all-male choir is also known for their cover of Adele's "Skyfall," which they debuted last year. 
There was something strangely hilarious about how the police officers look simultaneously extremely stiff and very relaxed. It felt perfectly Russian. Either way, it seems like everyone in the choir was having a good time — just look at this guy with the mustache.
Image Credit: NBC via DailyMail
Okay ... maybe not everyone.
Image Credit: YouTube