9 Facts You Probably Didn't Know About the Winter Olympics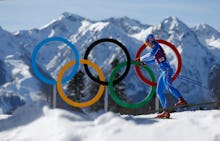 While not quite as popular as the Summer Olympics, there's something uniquely magical and special about the Winter Olympics. Whether it's the idea of warming up while watching these cold events, the fact that these athletes are flying down icy mountains and slopes at breakneck speeds or the fact that there's actually a sport that mixes cross-country skiing and shooting, the Winter Olympics are an exciting and special time. 
To make your enjoyment of the Sochi Winter Games even better, here are a few interesting facts about the history of the games that demonstrate just how cool the Winter Olympics can be (pun intended).
1. Two countries in the Top 10 for winter medals no longer exist
At the Winter Olympics, the top 10 medal winners overall includes both the Soviet Union and East Germany. The USSR collected 194 Winter medals, making it third all time, between 1952 and 1991. Meanwhile, East Germany's participation only lasted from 1968 to 1988, but managed to win 110 total winter medals during that time, placing them 10th overall.
2. There's a lot of money flowing during the Winter Games
At around $51 billion, the Sochi games are the most expensive ever, just barely edging out Beijing's $43 billion price tag. But past games have also seen a lot of money moving around, and sometimes the host city ends up coming out better than other times. While Salt Lake City turned a $101 million profit for their 2002 games, Albertville went into the red by about $67 million. Calgary made somewhere between $90 and 150 million from their '88 games, while Lake Placid ran a $8.5 million deficit.
3. Only one athlete has won gold at both the Winter and Summer Olympics
Only one person in the history of the Olympics has ever won gold medals at both the Winter and Summer Olympic Games. At the 1920 Antwerp Summer Games, American Eddie Eagan won the light-heavyweight boxing gold. Years later, Eagan was a member of America's gold medal-winning four-man bobsled team at the 1932 Lake Placid Winter Olympics.
4. Norway absolutely dominates the Winter Games
Norway is a straight-up powerhouse at the Winter Olympics. With 303 total medals and 107 golds (both all-time leaders), Norway has been a perennial favorite — especially in cross-country skiing and speed skating, the country's two best sports.
Not only that, but Norwegian cross-country skier and biathlon participant Bjorn Daehlie has won 12 winter medals (eight golds) in his career, making him the most decorated Winter Olympic athlete ever.
Plus, the country gets good bang for its buck. Per capita, Norway has won one Winter Olympic medal for every 16,556 residents. The United States, on the other hand, has one medal for every 1,237,154 residents.
5. The Winter Games are getting bigger
When the first Winter Games were held in 1924 in Chamonix, France, 16 nations sent 258 participants to compete in six different sports. At this year's Winter Games in Sochi, 88 nations have sent more than 2,800 participants to compete in 98 events in seven sports.
6. 18 countries have just one athlete at the 2014 games
While countries like the United States, Canada and Russia have sent many athletes to the games (230, 220 and 225 respectively), 18 nations have just one athlete representing them in Sochi. 
They are: Zimbabwe*, Kyrgyzstan, Pakistan, Tajikistan, Timor-Leste*, Malta*, Cayman Islands, Mexico, Venezuela, U.S. Virgin Islands, Nepal, Luxembourg, Bermuda, Paraguay*, British Virgin Islands, Hong Kong, Philippines and Tonga*.
* Making their Winter Olympics debut this year. 
7. The Olympic flame gets around
Commemorating the theft of fire from the Greek god Zeus by Prometheus, the Olympic flame has always been a symbol of Olympic competition, dating back to ancient Greece. It was reintroduced at the 1928 Summer Olympics in Amsterdam, and in 1936 the tradition of the torch relay was first established. 
The 2014 Winter Olympics torch relay lasted 123 days and included stops in the North Pole (for the first time with the help of a nuclear-powered icebreaker), in outer space via Soyuz rocket, at the bottom of the deepest freshwater lake in the world — Lake Baikal in Siberia — and the top of Europe's highest mountain, Mount Elbrus.
8. "Gold" medals in Sochi actually contain 516 grams of silver
The last Olympic gold medals that were made entirely out of gold were awarded in 1912. At this year's games, a gold medal contains 516 grams of silver and a measly six grams of gold.
9. Canada is the all-time leader in curling
After being included in the inaugural 1924 Olympics, curling was taken out of the games until a triumphant return in 1998 in Nagano. And even though everyone's talking about the Norwegian team, it's the Canadians you really need to watch out for. In both men's and women's curling, Canada leads the all-time medal count and both teams have won spots on the podium in every Olympic games since Nagano.