This College Football Star Might Be the First Openly Gay NFL Player. This is a BIG Deal.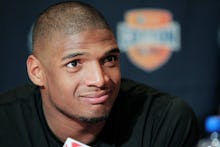 The news: Michael Sam, star defensive end for the University of Missouri and 2013 SEC Defensive Player of the Year, has publicly announced that he is gay.
Many expect Sam to be selected in the early rounds of the 2014 NFL Draft, meaning he could become the first openly gay player in American professional football. The 24-year-old sensed that rumors were circulating, so he chose to take the offensive: "I just want to make sure I could tell my story the way I want to tell it," he told ESPN on Sunday. "I just want to own my truth."
Sam's decision comes at a time of accelerated progress for gay rights in America, but how it will impact his draft prospects or potential career remains uncertain. Professional sports leagues remain largely uncharted territory for openly gay athletes: "I'm not naïve," Sam said. "I know this is a huge deal and I know how important this is. But my role as of right now is to train for the combine and play in the NFL."
Image: Business Insider
A huge deal, indeed. Sam has been "out" to his Missouri teammates and coaches since August, when he told them during a preseason team-building exercise. He says they've been supportive: Some teammates have since accompanied to gay bars, and one attended a gay pride event with him in St. Louis last year. "I never had a problem with my teammates," he told the New York Times. "Some of my coaches were worried, but there was never an issue."
But Pat Ivey, Missouri's associate athletic director for athletic performance, says it wasn't all hugs and congratulations: "I think there were, just like in society, there are people who don't understand, and don't want to understand, and aren't accepting," he said. "And we worked through those issues."
The major challenge lies with the NFL. To date, only a handful of male pro athletes have come out publicly, and none did so while on active rosters. NBA center Jason Collins came out last spring when his contract with the Washington Wizards was over. Since then, no other team has signed him. The lone cause for optimism has been soccer player Robbie Rogers, who came out when he retired but returned to play for the Los Angeles Galaxy after an encouraging show of public support.
But the notoriously macho NFL presents a different set of problems. The league has faced numerous bigotry scandals of late, most glaringly the controversial firing of Minnesota Vikings punter Chris Kluwe. An outspoken supporter of marriage equality, Kluwe claims the decision to "release" him was political: "I honestly don't know if my activism was the reason I got fired … However, I'm pretty confident it was." His evidence includes multiple conversations with team personnel, where they allegedly voiced their displeasure with his progressive views.
Michael Sam knows the challenges he faces. He's entering an environment where scouts consider a player's sexual orientation a pressing issue, and where current players have openly expressed their opposition to having a gay teammate. But the support he's received is encouraging: "We admire Michael Sam's honesty and courage," said the NFL in a statement. "Michael is a football player. Any player with ability and determination can succeed in the NFL. We look forward to welcoming and supporting Michael Sam in 2014."
Many players and commentators have also voiced their support via social media:
To his credit, even Richie Incognito weighed in on the news:
So what happens next? Sam still has to perform well at the upcoming draft combine to assure team scouts that he's worthy of a high-round pick. But as of now, there are no clear signs that his decision to come out publicly will negatively impact his draft stock. Regardless of what happens next, Sam's courage is commendable, and serves as a pioneering example for all amateur, collegiate and professional athletes: "[Michael's] decision to welcome us all into his world as he embarks upon a professional NFL career is an honorable one," said Brendon Ayanbadejo, former linebacker for the Baltimore Ravens and a member of Athlete Ally, a non-profit that empowers athletes to speak out against homophobia. "This moment will resonate in a unique and important way for countless people, particularly LGBT youth."
But most importantly, Sam is proud of himself and his decision to come out: "I knew that I was gay," he said. "And I knew that I was Michael Sam, who's a Mizzou football player who happens to be gay. I was so proud of myself and I just didn't care who knew. If someone on the street would have asked me, 'Hey, Mike, I heard you were gay; is that true?' I would have said yes."