These 5 Countries Have Banned Valentine's Day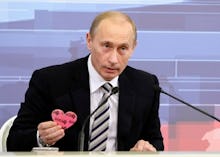 If the increased levels of PDA, pink and red heart cutouts or pop-up rose stands that incessantly accompany Valentine's Day have you gasping for air, there are places you may want to visit. Several countries (and a county of one state) have banned Valentine's Day. Valentine's Day trip 2015, anyone?
1. Malaysia
In Malaysia, Muslims (who account for over 60% the population) are prohibited from celebrating Valentine's Day. Going out for the occasion is a big risk in the country. In 2012, police busted budget hotels and arrested couples of "close proximity," a crime punishable by jail-time.
2. Iran
In 2011, Iran banned the day of affection. In a statement from the state-run media, government officials warned, "Symbols of hearts, half-hearts, red roses, and any activities promoting this day are banned." Demonstrations of affection could lead to heavy fines, prison sentences or worse.
3. Russia
The governor of Russia's Belgorod province banned Valentine's Day in 2011. Authorities argue the ban is to preserve "spiritual security."
4. Saudi Arabia
In Saudi Arabia, conservative officials strictly impose the ban on the holiday. Selling roses, red products and love-themed cards are banned in advance of February 14. The phenomenon has led to the creation of a black market of Valentine's day products.
5. Indonesia
Muslim clerics have ordered that couples and singles not to exchange cards, roses or engage in illicit behavior. Yet, many Indonesian youth defy the ban by celebrating the holiday and staging protests.
6. Florida
This year, the principal of Lake Nona High School has banned public celebration of the holiday. Any student who walks into school with balloons, teddy bears or flowers will be forced to surrender them in the principal's  office. All deliveries of gifts will be rejected. Other high schools in the area have followed suit in enforcing the ban.