Bill Gates' 8 Weirdest Answers From His Reddit AMA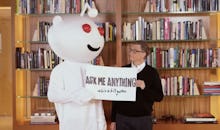 Just as Microsoft named Satya Nadella its new CEO, Bill Gates quit as the company's chairman. The restructuring will definitely change the company, but many wonder how much Microsoft will change, and if it'll be for better or worse.
Most likely to ease everyone's mind, Bill Gates participated in an "Ask Me Anything" thread on Reddit yesterday. This is his second in more than a year, and while Gates responded with gravity about many issues regarding health care, education and environmental protections, many of his responses were "untamed."
Below are this weirdest things we learned about Gates from Reddit:
1. He wants Samuel L. Jackson to play himself in a biographic film.
To a suggestion that Samuel L. Jackson would make a better Bill Gates than Ashton Kutcher, Gates said, "Melinda would probably watch that version."
2. He thinks that condom design is a "sensitive topic."
"This is a sensitive topic. The idea was that men don't like the current design so perhaps something they would be more open to would allow for less HIV transmission. We still haven't gotten the results. One grantee is using carbon nanotubes to reduce the thickness."
3. Gates admits to jumping over "full sized garbage cans" at one time.
Apparently, catching air while leaping over garbage cans inspired the Microsoft founder. But he laments, "I can still jump but not over full sized garbage cans like I used to be able ..." 
4. He can still jump over "a small enough chair" like a BOSS.
"Yes. A small enough chair I can still jump over."
5. Gates thinks Burger King and McDonald's burgers are "fine," but In-N-Out is better.
"Burger King and McDonald's are fine but In-N-Out is a very good burger. Dicks and Burgermaster are the local special burgers."
6. He reminds others when things aren't supposed to be taken seriously.
When asked about the most revolutionary technology in the next five years, Gates showed he can take a joke well when one Redditor answered, "Vista 2.0."
7. He likes sports video games more than Halo.
"I am not a huge gamer. My son knows a LOT more than I do about what is cool on Xbox. I played Halo but the sports games that the whole family can use are the things I use the most. I threw the javelin very very far!"
8. Gates admitted that his private plane is an expensive "guilty pleasure."
"Owning a plane is a guilty pleasure. Warren Buffett called his the Indefensible. I do get to a lot of places for Foundation work I wouldn't be able to go to without it."
After his AMA, Gates posted this video: