11 Olympians Who Aren't Even Old Enough to Drink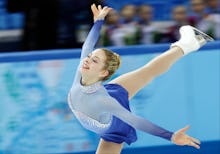 It's no surprise that the Winter Olympics are a young person's event. As athletes hurtle downhill on tiny sleds, soar off ski jumps and half-pipes and perform physics-defying feats on ice, it's easy to see why self-preserving older individuals with stiffer joints aren't necessarily dominant.
But what's amazing about the Olympics is that these people, in one of the most heated and stressful competitions on the planet, can't even grab a pint after a failed event.
In their honor, here are 11 Olympians who aren't even old enough to drink:
1. Yulia Lipnitskaya, 15
Despite her youth, this Russian Olympian was already heavily favored going into the games. And she's more or less the best-loved Olympian — Schindler's List reference or not.
Lipnitskaya justified her country's faith in her on Sunday when she won gold in the women's free program, making her the youngest athlete ever to earn an Olympic gold medal. In a display of modesty and determination that could be seen as either awe-inspiring or completely intimidating, Lipnitskaya said afterwards, "For me, this skate was not the best. We will work on mistakes so that on the individual championship there are no flaws."
2. Mikaela Shriffin, 18
Despite being the youngest American world champion in giant slalom, the winner of seven World Cup races and a U.S. gold medal hopeful, Shriffin swears she has never felt anxious about the pressure put upon her  — except, understandably, when her grandmother told her that Mikaela's racing was keeping her alive.
Shriffin began skiing at age 3 when she strapped on skis to glide down her parents' driveway, so it's safe to say she's well-practiced. Competing at Sochi in slalom and giant slalom, Shriffin stands to display the confidence few adults can hope to replicate.
3. Sara Takanashi, 17
Sochi marks the debut of women's ski jumping as an Olympic sport. As winner of 17 World Cup events, 5-foot-tall Sara Takanashi — described as a "bullet" — had Japan's hopes riding with her as she soared off the ski-jumps in Russia. Although a disappointed Takanashi ultimately placed fourth in the competition, she will undoubtedly return in 2018 to test herself in South Korea. At that point at least she will be able to buy herself a drink after her events.
4. Emery Lehman, 17
Lehman might be the youngest male competing for the U.S, but he's actually a pretty average teen ... despite being an Olympian. Unlike many of his young competitors, Lehman still lives at home with his parents and will graduate from his local high school. Proving that being an Olympian doesn't mean being serious all the time, Lehman once said, "It's just fun, going around the corners, and sometimes you're not sure if you're going to fall or not." Well put.
5. Denis Ten, 20
Born in the commercial hub of Amarat, Kazakhstan, Ten moved to California to train under Frank Carroll, renowned coach to many skating prodigies. Though Kazakhstan's presence in the figure-skating world is as young as Ten himself, Ten stands to change that. With his country's first major figure skating title behind him, he poses a serious challenge to the Canadian favorite Patrick Chan.
6. Justine Dufour-Lapointe, 19
Justine is the youngest of three sisters who make up the entire Canadian freestyle skiing moguls team. Justine — along with her sisters Maxine, 24, and Chloe, 22 — sit second, third and forth, respectively, on the World Cup rankings for the sport. Justine won gold in women's moguls and Chloe took silver, making them the third pair of sisters to win gold and silver in the same event at the Winter Olympics. Justine beat Chloe by just .78 points.
But, again, at least Chloe can drink.
7. Stale Sandbech, 20
This year's Olympians are remarkable not only for their youth, but also for their ability to excel in sports that, until the Sochi games, weren't even on the Olympic radar. Norwegian snowboarder Stale Sandbech took silver in the inaugural Olympic competition of slopestyle snowboarding — a freestyle event with a series of pretty awesome jumps — maneuvering his snowboard to make the notoriously difficult conditions at Sochi look easy. 
8. Gianina Ernst, 15
Ernst may be the youngest Olympian at Sochi — her birthday is in the last few hours of Dec. 31 — but she hasn't counted on her youth to bring her fame. Ernst came in second in the December 2013 World Cup, making her the highest-ranking German woman in the sport. Still in school, Ernst says that her busy training schedule doesn't allow her much time to talk to her parents. That will come in handy during her teenage years to come.
9. Gracie Gold, 18
Every Olympics sets the stage for the discovery of another teenage figure skating darling. After earning a silver in the women's team event with the women's individual competition yet to come, Gold stands to join the line of young American figure skaters who are remarkable not just for their talent, but also for their ability to pull off crazy tricks.
10. Luke Steyn, 20
The University of Colorado athlete is a first-time winter Olympian from Zimbabwe. This is unsurprising as it hasn't snowed in Zimbabwe since 1960. Determined to compete at Sochi in slalom and giant slalom, Steyn not only pushed his limits as an athlete, but also accomplished the obligatory young-person's trans-Europe road trip in the process. He drove a total of 1,800 miles in 20 days between events in France, Switzerland and Italy, accruing the points necessary to qualify for Sochi just before the Jan. 19 deadline.
11. Ty Walker, 16
The brutal truth surrounding the Olympics is that most athletes will go home without a medal. At 16, American snowboarder Ty Walker is already showing the rest of us how to handle a loss with aplomb, reacting to news of her failure to get through the first round of slopestyle with a shrug and a smile.
As a star athlete and Olympic snowboarder at an age when most of us were focusing on learning to drive, Walker can probably afford to take a loss with equanimity; plus, if she returns in 2018, she'll still be young enough to be on this list.