In Completely Symbolic Moment, the Wax Statue of Justin Bieber Has Been Destroyed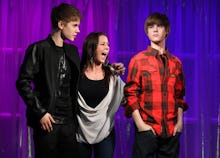 In one of the most obvious occurrences of symbolism in recent celebrity history, Justin Bieber's wax counterpart at Madame Tussaud's in New York City has been handled to the point of disfigurement and ruin. According to Spin, "There were no ropes or barriers blocking Beliebers from interacting with the dummy version of the otherwise blank performer." The figure has been retired.
The metaphor is too obvious: Bieber was once a squeaky-clean popstar whose pristine public image has now begun to melt like wax under the hot spotlight of fame. Madame Tussauds General Manager Bret Pidgeon recognized the irony of the ruined figurine when he told the New York Post, "This is disappointing, but hopefully we can welcome a new 'grown-up' Justin back to the attraction in the near future."
It's hard to believe that it was only three years ago that Bieber was denouncing abortion and saying that people shouldn't have sex with anyone unless they love them. The transformation from that perfectly-sculpted icon to the one connected with drag-racing and DUI is well documented and tragic, especially when presented in a timeline of his demise like the Mirror did this summer.
Bieber's star has passed. Somewhere between the Twitter rants, Instagram deuchery, drug and assault charges and the general crushing weight of constant attention, his public image has become disenchanted. The charismatic boy in Never Say Never has matured into something more warped and less charming. Perhaps all that's left for Bieber is reinvention.