Guess How Many Countries Have Better Press Freedom Than the United States. It's Shocking.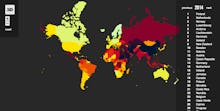 Every year, Reporters Without Borders ranks the world's countries from best to worst when it comes to freedom of information. Finland took the gold in 2014 (it also consistently ranks as the world's best in education), closely followed by the Netherlands and Norway. In last place was Eritrea — a small country in the Horn of Africa. 
But the real shock comes when readers search for the United States on the list. Top 10? Keep scrolling. Top 20? OK, top 40? Nope. This year, the U.S. ranked 46th on the press freedom scale, dropping an incredible 13 places from last year, lurking in the shadows of otherwise comparable countries. 
The U.S.' abysmal ranking comes from the government's over-use and abuse of the term "national security." While hunting for whistleblower journalists and fighting to stop investigative leaks, the government has tightened its grip on journalism. The conviction of Private Chelsea Manning and the pursuit of NSA analyst Edward Snowden sent clear signals to the American public that disclosing sensitive information, even if it was in the public interest, would not be tolerated. 
New York Times reporter James Rise is being forced to testify the criminal trial of a former CIA agent. The agent, now being prosecuted for unauthorized leaking of state secrets, was a source in an expose that Risen wrote. Barrett Brown, another journalist and an informal spokesperson for the hacker group Anonymous was recently given an incredible 105 year prison sentence. 
Reporters Without Borders urges the U.S. to pass a shield law that would protect the identity of sources a journalists uses and to ease its heavy restrictions imposed on reporters. 
The organization sends an extensive questionnaire that is sent to a network of partner organizations (18 freedom of expression NGOs located in all five continents) and to 150 correspondents, journalists, researchers, jurists and human rights activists. 
Is the first amendment null and void in the U.S.? Now one of most restrictive modernized countries, can it go back from its violations, or are the changes here to stay?