Amanda Knox Just Tweeted This Out — A Protest to the Italian Courts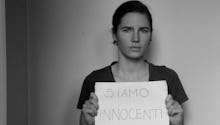 Amanda Knox, beleaguered accused murderer in Italy and possible refugee in the United States, has a message for Italy:
"We are innocent."
Knox is accused of murdering her former roommate, Meredith Kercher, in 2007, in a plot that also involved her then-boyfriend Rafaelle Sollecito. While both were convicted in 2009, an Italian appeals court overturned that on the basis of a flawed trial. Knox fled to Seattle, where lawyers told her the U.S. would protect her against double jeopardy. But earlier this year, Italian prosecutors changed their unlikely claim that Sollecito and Knox conspired to murder Kercher after she refused to participate in a drug-fuelled orgy to one of a domestic dispute gone wrong. In her third trial, 26-year-old Knox was sentenced to 28 years and six months in prison, while Sollecito was sentenced to 25 years.
Knox's defenders as well as Knox herself point out that another man, Rudy Guede, is already serving time for the murder, and have painted the prosecution as a sex-obsessed, vindictive witchhunt (aided and abetted by tabloid journalism, such as this disturbing character assassination in the Daily Mail). But while Knox will likely live the rest of her days in the U.S. in peace, Sollecito is an Italian citizen and will have to face his sentence. In the linked blog post, Knox lays out the weakness of the prosecution's case and accuses the Italian authorities of using him as a pawn in a prejudiced investigation:
"The only reason he has been dragged into this is because he happens to be my alibi. He is collateral damage in the unreasonable, irresponsible, and unrelenting scapegoating of the prosecution's grotesque caricature that is 'Foxy Knoxy.'"
Knox and Sollecito have one last appeal with the Italian Court of Cassation to prevent their sentence from going into effect, but such a reprieve seems unlikely.