There's a New Hot Issue Olympians Are Speaking Up Against, and It's Not Gay Rights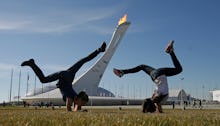 The slushy, slippery aftermath of climate change isn't exclusively a #SochiProblem, but when you're hosting the most world's important winter event — you're going to take mankind's blame. Soft snow caused one biathlon athlete to crash and break a ski, stripping him of his lead and prompting him to say he wanted to "punch a wall."
Speed skiers had to change their equipment and tactics as the ice warmed into snow, calling the terrain "a completely different course." The women's downhill practice session was canceled in order to preserve the course for the race on Wednesday. Sochi conditions have over 100 Olympians screaming. Something has to be done about climate change.
In an international petition, these young, fit superstars are leveraging their fame for old Mother Earth. Their tactic is simple: make it as direct and as personal as possible. Their main point? The Winter Olympics and winter sports as we know them are going to melt away unless world leaders pass legislation. 
"As a result of this heightened awareness of climate change, many of us who spend our lives in the snow are more aware of its effects and have changed our lifestyles to be respectful of the health of the environment ... But what can be said about Washington? What can be said about governments all around the world? Where is the big legislation that can implement real change we need?" writes Andrew Newell, 2014 U.S. Ski Team Olympian. 
A recent report from the University of Waterloo in Canada and Management Center Innsbruck in Austria found that only six of the previous 19 Winter Olympic host cities will have cold enough temperatures to host the Games by the end of the century if climate change barrels forward. 
Open-mindedness has its time and place. Recognizing climate change is neither one of those times nor places. In fact, 97% of a climate experts agree that human actions like pollution and carbon emissions are causing global warming. 
The petition has signatories from countries including the United States, Switzerland, Norway, Estonia, Canada, Australia, Germany, France, Italy and Sweden. For them, climate change is an international problem that requires international action. 
Next year, the United Nations will convene at the Convention on Climate Change in Paris. With every world leader in the rotunda, many climate activists, including the Olympians, see this meeting as a crucial chance to slow climate change. 
Emboldened on the Olympic petition reads the line: "Recognize climate change by reducing emissions, embracing clean energy and preparing a commitment to a global agreement at the UN Framework Convention on Climate Change in Paris 2015."
This year, 26 million people around the world, including most world leaders, are cheering for Olympic athletes. Can these approximately 100 Olympians get their supporters to support environmental global action? Last April, 75 Olympic medalists in skiing and snowboarding sent a letter to President Obama calling for the same action. What will it take for our world leaders to listen?