11 Images Showing the Bloody Protests Happening in Venezuela Right Now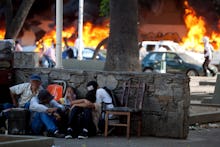 At least three people have been shot and killed in Caracas, Venezuela as relatively peaceful protests on "Youth Day" turned deadly. With marches and protests against the Maduro administration escalating over the past two weeks, Venezuela's political stability cracked on Wednesday. In a deathly crossfire, anti-government demonstrators clashed with security forces and armed, pro-government vigilantes. 
About 10,000 anti-government protesters and students marched through the streets on the day that commemorates a 19th century independence battle where students fought colonial authorities. Calling for the end of Maduro's presidency, corruption and the country's economic woes — the the large group remained relatively peaceful until the event's end. But as protestors started to disperse, a small group of roughly 100 young people lingered, sparring with security forces, the Wall Street Journal reports.
On-the-ground accounts describe the scene — an armed gang of pro-government vigilantes on motorcycles swarmed in on the group of anti-government protesters and opened fire. Twenty-four-year-old Bazil Da Costa was shot in the head and killed. Onlookers screamed "assassins" as they rushed to help the student. 
The leader of a militant pro-government group was also killed, but the situation surrounding his death remains elusive. 
Leader of the anti-government movement Voluntad Popular — "Popular Will" — and former Mayor Leopoldo Lopez claims the government orchestrated the violence. Others question Lopez's political motives, citing his history of corruption. On Wednesday evening, the government issued a warrant for his arrest — alleging murder, terrorism and conspiracy against him. 
"We will not kneel," said David Smolansky, former student leader and current mayor of the Caracas municipality, El Hatillo. Other protesters chanted, "We don't want a Cuban dictatorship."
President Maduro calls the anti-government leadership right-wing enemies who are trying to undermine national stability. Speaking to a group of pro-government demonstrators at a rally, Maduro said, "A Nazi-fascist current has emerged again in Venezuela, they want to lead our nation to violence and chaos." 
The abysmal state of Venezuela's economy is largely to blame for the country's upheaval. Let's not beat around the bush — the country's recent economic adjustments have hit the Venezuelan population hard. The Venezuelan bolívar has seen soaring inflation — experts anticipate its rate to reach 60% within a year. With decreased purchasing power, steadily decreasing wages have had an even greater impact. The bolívar is so weak that 12 newspapers have shut down. Food prices are the highest they've been in 18 years and oil subsidies have been slashed. 
All of this comes as Venezuela makes perhaps its biggest financial change yet. The country recently overhauled its foreign exchange system, effectively launching an extreme currency devaluation. The OPEC nation's sovereign bonds rose a surprising 3%,which is great news for foreign bond investors, but not so great for citizens. 
Rafael Ramirez, the country's vice president of the economy and oil minister, said the new system "will be more transparent and would allow different public and private players to participate and bring foreign currency in."
As Venezuela's financial state slips, so will its social stability. The country desperately needs to reform before any more lives are lost. 
1. Youth Day Protests Start Out Peaceful
2. Students and Security Forces Spar
3. Shots Fired — Anti-Government Protestors Killed
4. Chaos Erupts as Cars Go Up in Flames
5. Students Detained
6. Student Murdered
7. Vigilantes and Security Forces Use Force
8. Disarray Spreads
9. Caught in the Crossfire
10. A Country in Turmoil
11. "Not Everything is Expensive in Venezuela, Here Life is Worthless"