Literally Every Famous Person Ever Is Appearing on Late Night TV in the Next Two Weeks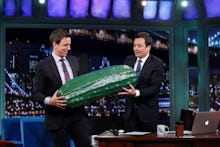 Seth Meyers will take over the late night hosting duties from Jimmy Fallon for Late Night With Seth Meyers beginning Feb. 24. Fallon is moving into a new show of his own as he takes over hosting duties from Jay Leno for The Tonight Show. As of Thursday — just weeks after Fallon ceremoniously passed the pickle to Meyers — they have both announced their guest lists.
Get ready. It's starting to look like every famous person ever is going to be on TV in the next two weeks.
The preparations for Meyers' takeover have been rapid fire. First, he tapped Fred Armisen as a bandleader for the show. Now his guest list is slated to include other bigwig musicians like Brad Paisley, Kanye West and John Mayer alongside Joe Biden, Lena Dunham and Amy Poehler.
But the guests slated for Jimmy Fallon's first week (starting Feb. 17) are even more impressive. He's got Lady Gaga, Justin Timberlake, Arcade Fire, U2, Tim McGraw, Will Ferrell (appearing alongside Michelle Obama, inexplicably), Bradley Cooper and Jerry Seinfeld.