Watch 'The Daily Show's' Truly Incredible Takedown of Russia's Anti-Gay Laws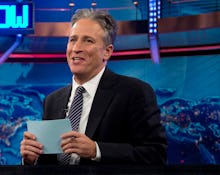 Jon Stewart and company have done it again.
Last night's episode of The Daily Show took viewers to Sochi, Russia, home of this year's fraught Winter Olympics. In a segment called "Behind the Iron Closet," correspondent Jason Jones interviewed a slew of locals regarding the nation's archaic and controversial "anti-gay propaganda" laws. The results are hilarious, heartbreaking, and unexpectedly hopeful:
The Daily Show
An illuminating moment came when Jones interviewed a concerned father.
Father: "I can only imagine taking my kid to school and seeing two dads bringing a kid, and me trying to explain to my kid what's going on here."
Jones: "Right. I mean it's tough to explain that that kid has two daddies."
Father: "How to find the words?"
Jones: "Well, other than the words I just used."
Father: "You did?"
Jones: "Yeah."
Father: "I cannot find the words."
Jones: "Just repeat what I said."
Father: "What?"
Jones: "'Hey. That kid has two daddies.'"
Father: "No way."
Jones: "You can't say that?"
It really is that simple, folks.
The background: Russia and President Vladimir Putin have been internationally criticized for implementing laws designed to "protect" children from "gay propaganda." This has included "multiple bans on gay pride parades in Moscow and other cities, hefty fines to gay rights groups accused of acting as a "foreign agent," [and] denial of registration to nongovernmental organizations." The law has been a major point of discussion surrounding the Olympics.
The takeaway: Jason Jones and The Daily Show are the latest among many who've highlighted the absurdity of this legislation. With any luck, such discourse will spur shifts in Russian attitudes sooner rather than later.