Young Iranians Continue to Shock the Internet by Being Normal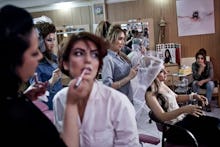 The Internet is eating up "Another View on Iran," a provocative photo essay by photographer Hossein Fatemi. The exposé gives a global audience the chance to peer into the country's more modern (or scandalous) sub-culture where men and women socialize together, drink alcohol and listen to rock music. The country bans these activities, but many citizens still participate in them. Sounds familiar, doesn't it? 
While nuclear woes isolate the country politically, global culture has not. The duality of Iranian culture, and the generational divides between its youth its older generations, have been extensively reported. The 1979 Iranian Revolution succeeded in ridding country of much of its Western influence, but it did not exterminate it.
We know Iranians, especially young Iranians, break traditional law. We know Americans, especially young Americans, break the law. So then why do stories like this continue to weed through the world's viral content? 
The success of "Another View on Iran" is just as much about the content as it is about the audience. A person in touch with Iran's contemporary culture would not likely be surprised or extremely interested in the series. As one commenter puts it: 
But for an audience unable to pinpoint Iran on a world map, this content is hot. The sexual and risqué view of the subjects feeds an insatiable appetite (a Western appetite, if I may be so bold) to uncover or unwrap the traditional "other."  So often projected as foreign and different, Iranians are portrayed like themselves, which turns a whole set of ideas upside down. Seeing Iranian women (captioned as "girls") as having a sexual identity, like any man or woman — that's enough to make certain heads spin. 
Overwhelmingly, users of imgur are young, Caucasian, single males. Their comments on this photo essay mostly followed a similar line. I'll let this one speak for itself: 
Photographer Fatemi is an award-winning journalist known for getting right up in the center of action. His war and humanitarian-focused photos are powerful; it's no surprise that this series is powerful as well. But in evaluating "Another View on Iran," I'm starting to think it may be a better view of another population.