Beijing Has Reached Red Alert Levels of Smog, Threatening Day-to-Day Life in the Capital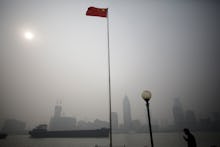 Grab your rebreathers. According to an "official Chinese report," rampant air pollution in Beijing has rendered the city as "barely suitable" for living.
According to the 2014 Blue Paper for World Cities report, Beijing was highly polluted at least once a week. It ranked second-worst in the 40 global cities surveyed in the joint paper thanks to its sorry environmental conditons.
The paper was issued by Social Science Academic Press and the Shanghai Academy of Social Sciences. The city's Environmental Protection Bureau further found that there was a significant level of air pollution covering Beijing for at least 189 days of the year. Smog is so bad that it has repeatedly brought Beijing to a virtual standstill, with flight delays and school closures. At times, the city government has advised residents to stay indoors.
According to Reuters, pollution is rapidly becoming a concern for China's "stability-obsessed leaders, keen to douse potential unrest as affluent city dwellers turn against a growth-at-all-costs economic model that has tainted much of the country's air, water and soil."
On Wednesday, the government said that it would start up a 10 billion yuan ($1.65 billion) fund to fight air pollution, which would include rewards for companies that move to cut their emissions. It's also committed to spend over 3 trillion yuan (a staggering $494.85 billion) to tackle pollution in total, including a growing carbon market for companies. Some 300 pollution factories will also be closed down by the Beijing city government this year, and the government will publish a list of industrial projects scheduled to be shut down by the end of April.
Shanghai has also battled horrendous pollution problems. This is what greeted two Redditors in that city during early December:
Shanghai's air-quality index exceeded the maximum reading of 500 in December. The indexes below explain:
That's right — Shanghai went past maroon alert levels of pollution.
But Beijing officials are stuck in a tough position. Neighboring Hubei province, which is next to the city, has much lower emission standards and thousands of dirty factories. When the wind blows in the wrong direction, smog flows right into downtown. Regional officials are reluctant to sacrifice their own economic needs for those of major metro areas.
The Chinese government clearly realizes the situation is approaching desperation and is taking moves to curb air pollution. But in the meantime, "the smog cloud just hangs there, suffocating the most populous nation on Earth."