Here's What This Skier Did With All Those Puppies You Saw Him Holding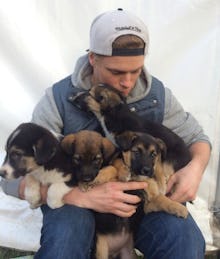 Usually, Olympic athletes are busy prepping for their events and psyching themselves up for competition. But it looks as though U.S. freeskier Gus Kenworthy found something else to occupy his time in Sochi: rescuing stray puppies.
Kenworthy, who won a silver medal at the ski slopestyle event on Thursday, tweeted out this adorable picture two days before his big competition:
He then apparently got more than what he bargained for when he found this entire pack of stray puppies later (though he doesn't seem to mind):
And it seems that it was love at first sight: Kenworthy announced on his Facebook page that now he is planning to bring the puppies home with him once he finishes at Sochi.
"Spent all afternoon playing with a gang of stray puppies here in Sochi! Looking into finding a way to bring them home with me but also don't want to take them away from their mama because she was being super cute and protective over them. I bought them some food and I'll go visit them again tomorrow," he wrote on Tuesday.
Image credit: Facebook
Kenworthy is not the only person making waves for saving stray dogs in Sochi. Outraged by the officials' decision to get rid of the "biological trash," Russian billionaire Oleg Deripaska set up shelters nearby to take them in. So far, he has saved around 140 dogs, with many of them successfully adopted into homes.
It's been estimated that thousands of feral dogs have been put down by Olympic organizers in Sochi. Though it's heartbreaking to think of all the dogs that weren't able to be saved, we're glad that these four puppies at least found a good home.