Is Jason Brown America's Next Figure Skating Star?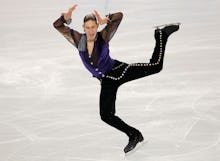 It's fair to say that Evgeni Plushenko's shocking withdrawal from the Olympic men's figure skating event sucked the energy out of the Iceberg Palace on Thursday evening. The very pro-Russian crowd was especially subdued through the next two groups of non-Russian skaters. Perhaps it's no surprise that the skater who jolted some life back into the audience was the same one who became a viral sensation after last month's U.S. National Championships. Jason Brown nailed his short program to Prince's "Question of U" and received his highest international score of the season. By the end of the men's short program, Brown found himself in a virtual tie for third place heading into Friday's free skate.
Can Jason Brown actually win an individual Olympic medal? For the first time all season, the answer appears to be yes. He'll need some help though. Brown's most difficult technical element is a triple axel, while all five men in front of him (and several who closely trail him) will be attempting at least one quadruple jump in the long program. Several top skaters will have to make mistakes for Brown to win bronze. However, the funny thing about quadruple jumps is that skaters tend to fall on them. A lot. That is precisely what happened at U.S. Nationals, where Brown had the skate of his life and earned an Olympic spot over skaters with more technically difficult programs.
You may be wondering how Jason Brown can compete with these top international men when he doesn't match them in technical difficulty. For starters, execution counts in the current judging system. Everything Brown does, he does exceptionally well. Other men may have harder jumps, but Brown can keep up by maximizing points on other elements like spins and footwork. More importantly, Brown is a born performer. It is no accident that Brown has become an Internet sensation. Unlike other top men's skaters, Brown has a way of drawing in the audience. He feels every accent of the music, and his programs feature exceptionally intricate choreography. In a sport where the top competitors often skate through their music and focus on jumps, Brown simply stands out. In figure skating, the judges are the front row of the audience. If the crowd is engaged, the judges typically are too. This is reflected in the more subjective program components score, where Brown often gets a nice boost.
Why is all of this important? It's no secret that figure skating has suffered low popularity in the United States since the height of the Michelle Kwan era. American figure skating stars tend to be decorated ladies' skaters, but why can't Jason Brown break that mold? Brown has the potential to create a star-making moment for himself when he skates his "Riverdance" long program Friday night in Sochi. If he defies the odds and wins a medal, he is the face of U.S. Figure Skating for the next four years. Even if he doesn't, Brown has a way of winning hearts with his sweet, affable personality as well as his engaging performances. Jason Brown is the kind of crowd-pleasing figure skater the sport needs to regain fans. No matter what, we'll be rooting for him.