How These 9 Couples Mixed Business and Pleasure — And Made Start-Ups Worth Millions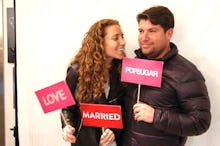 There's always been a sort of stigma against tech companies run by couples — mainly because there's a good chance having their love life around all the time might make it even harder to keep that startup afloat.
In recent years, however, investors have seen a rising number of successful couple-run startups.
Even though half of marriages in the U.S. end in divorce, there might be benefits to couples going into business together that investors haven't considered. According to Stewart Friedman, professor of management at Wharton Business School, "The trust you have in [your spouse as co-manager] is greater than you are likely to have with any other business partner in your life. It can be exciting to share the joys of accomplishment together. And as a business professional, you're apt to learn more and faster, and to see different perspectives, because you're able to be so vulnerable with each other."
Thinking about drafting a business plan with your significant other? Find out what these nine startup couples say was the secret to their successful businesses.
1. Julia & Kevin Hartz, Eventbrite
In 2006, Julia & Kevin Hartz launched Eventbrite while planning their own wedding. Today, the online events and ticketing platform has processed 140 million tickets in 179 countries and has facilitated more than $2 billion in gross ticket sales, according to data on Crunch Base. 
Early on, the couple contemplated the risk of starting a business together and established the rule to divide and conquer the workload. In an interview with Venture Village, Julia suggested that if anything, their marriage makes their business partnership stronger: "I think we're very fortunate to be building something together where we have the same goals, passions and dreams and that we're able to communicate on a daily basis."
2. Lisa & Brian Sugar, POPSUGAR
Lisa and Brian Sugar started their business with a pop culture-centered blog, Pop, in 2005. At the time, both of them were working at other advertising and tech firms.
After some success, the couple founded Sugar, Inc. and eventually created an global media brand with offices in five cities. As of last year, POPSUGAR boasted 20 million site viewers a month and $46 million in investments.
Brian and Lisa don't worry very much about separating work and romance. In an interview for American Express Open Forum, Brian says that its okay to bring work home. "We don't have separation, on purpose. We love what we do so passionately, that turning it off isn't fun. We do go on vacations, but even then our computers are there, iPhones are there. I'd say our work/life balance is spread out over 30 hours per day." 
3. Emily & Rob LaFave, Foodzie
Emily and Rob LaFave, founders of Foodzie, met their first year of college at Virginia Tech. They have been together ever since. Their startup was created to offer consumers a way to find and curate food from small artisan food companies. In 2008 they were accepted into a startup accelerator program TechStars and received more than $1 million in funding. In 2012, Foodzie was acquired for cash and stock by Joyous. It is now worth $19.4 million.
The couple was married in 2013 and share their story on their blog, The Startup Couple. Unlike many couples, Emily reflects on her relationship with her new hubby Rob and embraces the mix of work and play. "These are the best moments of starting something with your partner in life. You roll over and you never know if you'll get morning kisses or morning pitches." 
Watch Emily and Rob tell their startup story here:
4. Kass and Michael Lazerow, Buddy Media
The Lazerows founded Buddy Media in 2007, but this isn't the first company they've started together. This is, in fact, the third.
The social enterprise software company connecting top advertising firms with consumers was acquired by Salesforce for a staggering $689 million in June 2012. 
In his article featured on Inc.com, "Why I Have Sex With My Co-founder," Michael makes the case for couples to start up businesses together — and for funders to invest in them: "Working with my wife is easy, far easier than working with someone I barely know. Our skill sets are perfect complements. I focus on the ideas, sales, raising money, and the strategic direction of the company. Kass handles all operations, finance, HR, marketing. She's the Tom to my Jerry, the Beauty to my Beast."
Check out this touching video Michael posted when Buddy Media was acquired in 2012.
5. Victoria Ransom & Alain Chuard, Wildfire
In 2008, Victoria Ransom and Alain Chuard launched "Wildfire," an enterprise marketing platform app, in their living room. It was profitable in its first year with no outside funding.
Before selling the company to Google for $350 million in 2012, Chuard said it's important that they keep it strictly business at work and keep disagreements between themselves. "When we're at work, no one would even know we're engaged ... It's not relevant. When we do disagree, we take it offline."
6. Susan Gregg Koger & Eric Koger, Modcloth
High school sweethearts Susan Gregg Kroger and Eric Koger started Modcloth while freshmen at Carnegie Mellon in 2002 after Susan decided she had too much clothing, thanks to her thrifting habit. Eric designed a website for her to sell her merchandise. In 2012, the online vintage clothing retailer made over $100 million in sales and sees about 40% growth each year. 
Fast forward a few years and the couple is now married. Eric continues to manage the business end while Susan leads the creative division. The Kogers may lead a fast-paced lifestyle, but they have strategies for keeping the stress down with such busy schedules. Susan and Eric shared some of their tools for success with Lifehaker: "Neither one of us has much time to really run the household, so we outsource duties like taking care of the dogs. Working as much as we do, you have to take a look at what only you can do, and find other people to help where you can." 
7. Wendy Tan White + Joe White, Moonfruit
Wendy Tan-White and Joe White co-founded Moonfruit with Eirik Pettersen in 2000, before they were married.
Today, Moonfruit is one of the most popular site builders in the UK. The founders sold Moonfruit to Hibu (formerly Yell) in 2012 for $29 million with a contract that allowed them earn additional millions annually and remain the executive leadership in the company, according to Techcrunch.com.
Over the course of their relationship and partnership, Wendy and Joe have had their ups and downs. In a 2012 interview with blogger Sramana Mitra, the couple shared their secret to keeping the balance. In addition to learning to leave work at the door as much as possible, the couple says they make sure they make time to be together and apart. They schedule both date nights once a week and work days out of the office on different days. Wendy's advice to every entrepreneur : "At some point as an entrepreneur, you have to realize that your real life is still happening." 
8. Adi Tatarko & Alon Cohen, Houzz
Adi Tatarko & Alon Cohen created Houzz, an online platform for design and renovation, in 2009 after having difficulty explaining their own vision of a home to architects. Today, they have raised $48.6 million in funding. 
Adi told the Huffington Post last fall that she defines success beyond earnings and revenue. Happiness and success includes raising good kids and being there for her family. "The more I succeed in balancing both my life at home and at Houzz, the happier I am. And the happier I am, the more successful I feel."
9. Jennifer Wong and Casey Sackett, Alt12 Apps
During her pregnancy in 2009, Jennifer Wong discovered there were no apps for expecting mothers that suited her. Later that year, her and her husband, Casey Sackett founded alt12. They have now launched three apps aimed for new, hopeful or expecting mothers. The Wong-Sacketts' first app, "BabyBump," reached 8 million downloads last year.
While Casey and Jennifer are business partners, they insist that couples going into business together remember to put the same investment into their own relationship. In an interview with Entrepreneur, Jennifer warns against blending the two worlds too much: "Our biggest challenge is creating a mental separation from seeing each other as tech partners by day and loving spouses by night ... Even after the kids are tucked in bed, shoptalk often takes precedence over pillow talk and romance plays second fiddle to sleep."