8 LGBT Alternatives to Whatever Boring Rom-Com You Planned for Valentine's Day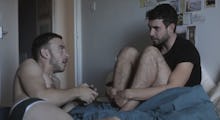 There is no shortage of romance films to heighten the drama of your Valentine's Day. From Nicholas Sparks to John Hughes, everyone has their favorite romantic escape.
But Valentine's Day is a bastion of heteronormativity and most of the romantic film canon only encourages this. It's not surprising that many films indulge in gay stereotypes rather than offering honest portrayals of LGBT people. But there is hope.
Here are eight films that everybody should watch this V-day. Eight films that get LGBT love right:
1. 'Kissing Jessica Stein'
While Kissing Jessica Stein may not be an epic romance, it is a film that depicts the awkwardness of new relationships in a funny and touching way. It is a touching film about the relationships between women — romantic or not. As Bitch Flicks points out, "it's a film about sexual fluidity" and the complicated nature of sexuality in general.
It tackles lesbian romance the same as any mainstream film would approach heterosexual relationships. It's blends sexual exploration with lighthearted rom-com tropes — the perfect combination for V-Day.
2. 'Brokeback Mountain'
Brokeback Mountain is a classic for a reason — it's the Romeo and Juliet of gay romance. For those of you living under a rock, this Oscar-winning film follows Heath Ledger's Ennis Del Mar and Jake Gyllenhall's Jack Twist as they navigate a heartbreaking romance forbidden by a strict code of masculinity.
This film is particularly special because explores love and masculinity in a way no previous film has. And it was one of the first mainstream films to focus on a LGBT romance so intensely.
3. 'The Birdcage'
The plot may revolve around the child of a gay couple trying to impress his soon-to-be in-laws, but at the heart of The Birdcage is the love in this "unconventional" family. Nathan Lane and Robin Williams play a gay couple who have their problems, but would do anything to support one another (including dressing up as a woman when circumstances so demand). It's also ridiculously funny.
4. 'The Kids Are All Right'
Another film featuring an unconventional family, The Kids are All Right, was much-beloved in 2010. Annette Benning and Julianne Moore give excellent performances as lesbians who have had children by the same sperm donor. It might be a story about family, but the film would be nothing without the troubled relationship of the two leads. That's what makes it so great — it takes on an underrepresented group, but treats them in the nuanced way every sexuality deserves.
5. 'Beautiful Thing'
Coming of age romances are a dime a dozen. However, coming of age romances featuring gay couples in South London are not. Beautiful Thing is the typical opposites attract love story — the popular yet troubled heartthrob falling for the unpopular loser — but in this case both are teenage boys. As the San Francisco Examiner puts it, the film "manages to do what few films have done — convey coming out with the specificity that draws viewers in while conveying a universality that hits home."
6. 'Weekend'
Weekend is about Russell and Glen, two men who hook up for a weekend. Similar to Before Sunrise, Weekend explores how even a brief interaction can have a profound, lasting effect. 
7. 'Blue is the Warmest Color'
This film has garnered a ton of attention recently, mostly for its explicit portrayal of lesbian sex and director's questionable filming tactics. Moving past the controversy, though, this is actually a poignant and well-made film. Central to the film is the relationship between Adele and Emma as two souls in need — that they're lesbians is secondary.
8. 'To Wong Foo, Thanks for Everything, Julie Newmar'
To Wong Foo's The Adventures of Priscilla, Queen of the Desert is a superior film, but the relationships in Julie Newmar are beautiful and dense. To Wong Foo follows the exploits of three drag queens played by Patrick Swayze, Wesley Snipes and John Leguizamo as they travel cross country.
This film is especially beautiful for how it handles coming out. There's no homophobia or hatred, just acceptance and respectful refusal. It's a heartfelt and funny film, perfect for any kind of Valentine's Day.