18 Photos of Sochi That Aren't Busted Toilets, Broken Door Knobs, and Ugly Hotel Rooms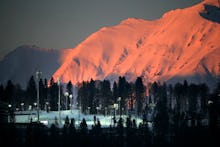 While #SochiProblems would like us to believe that all is doom and gloom in the Olympic host city, the American media's gleeful documentation of Sochi's lacking accommodations betrays whininess and unfair schadenfreude on its part. Though there certainly have been plumbing issues, unfinished hotel rooms and a general sense of confusion, much of Russia's $51 billion has gone into improving the tropical resort town. And some of the buildings and surrounding sights more than meet the international standards that we expect of Olympic venues.
Without further ado, here are 18 photos that demonstrate that there are some beautiful (previously undocumented) sides to Sochi as well:
1. Outside Fisht Olympic Stadium
2. The Bolshoy Ice Dome
3. A seaside sunset
4. The arenas at night
5. The Black Sea
6. By the beach
7. The Skating Palace
8. A view from the Krasnaya Polyana mountains
9. Sochi seaport
10. Surrounding the stadium
11. Seaside paths
12. The Caucasus mountains beyond the hotels
13. The Bogatyr Hotel
14. Room for athletes in the Olympic Village
15. The Olympic Village
16. The Polyana Grand Hotel tourist complex
17. The road to the venue
18. Inside the Olympic village
So while Sochi has its share of problems, it is definitely not all debris and chaos as many in the media have depicted. Let's give Sochi props where it's due.