BIG Win For Legal Weed: The Industry Couldn't Use U.S. Banks — But Obama Has Changed That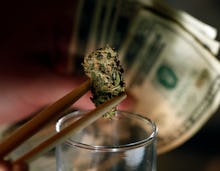 The news: A fully realized pot industry in America just became a lot more possible. On Friday, the Obama administration officially gave banks the green light to do business with legal marijuana sellers, clearing up a major hurdle these businesses have been facing for years.
Until now, a series of laws and regulations have made it very difficult for these legal businesses to work with banks, which are wary of giving loans and accounts to what was considered questionable businesses. But now legal distributors will be able to set up accounts, secure loans and more easily keep track of their finances. In Colorado and Washington, the legalization of recreational marijuana use has sparked a fast-growing industry that's generating millions of dollars in sales. One of the biggest problems for the industry has been an inability to manage these finances is an efficient way — marijuana business owners have been literally forced to pay their taxes with bags of cash. 
Why this is such a big deal: The move solidifies marijuana as a legitimate national business.
Though the Obama administration announced last year that it wouldn't be challenging these states' decision to legalize recreational marijuana, it did little else to remove what would surely be serious challenges for these businesses. But on Friday, the administration took that next step and laid out a path for banks to work with marijuana businesses in mainstream commerce. Most importantly, the Treasury Department will no longer be going after banks that do conduct business with these dispensaries, which was once punishable by harsh fines. Banks will have to adhere to strict regulations and carefully monitor the sources of a marijuana business's money so as to not inadvertently launder money, but the changes make it much easier for legal businesses to operate legally. 
"This is very good news," Steve Horwitz, owner of the Ganja Gourmet in Denver, told the Washington Post. "The opposition and difficulties to being in this industry are just unimaginable. Every time you think you're going forward, you go back 100 yards."
This could also work out very well for banks. According to ArcView Market Research, the legal marijuana industry in America is expected to generate $2.57 billion in sales this year, giving banks a lot of new money to work with. 
The critics: Of course, while this might seem like a great idea, not everyone is on board. 
"Marijuana trafficking is illegal under federal law, and it's illegal for banks to deal with marijuana sale proceeds under federal law. Only Congress can change these laws. The administration can't change the law with a memo," Sen. Chuck Grassley (R-Iowa), ranking member of the Senate Judiciary Committee, said in a statement. Grassley echos the concerns of other Washington officials — like Obama's own DEA chief — who say that removing legal roadblocks for drug entrepreneurs isn't as simple as flipping a switch, and suddenly going in a different policy direction.
But we all know how "effective" Congress can be, so perhaps the administration is just doing what it knows needs to happen.
Though marijuana is legalized in Colorado and Washington, it has been extremely difficult to operate these businesses. Hopefully this will be the next step in what's shaping up to be a slow but promising effort to realize real, legalized recreational marijuana.