Here's What Bode Miller Said About the Reporter Who Brought Him to Tears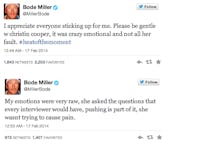 On Sunday, American alpine skier Bode Miller won the bronze medal at the men's super-G event, making him the most decorated American alpine skier and the oldest alpine skiing medalist in history. Shorty after the event, Miller was interviewed by NBC correspondent Christin Cooper, and as PolicyMic's Elieen Shim reported, things got kind of ugly quickly. Soon after, critics on Twitter lambasted Cooper, but Miller recently Tweeted out his own thoughts on the situation and defended the NBC analyst.
While Cooper was interviewing Miller, he mentioned that this medal win was a bit different than his past victories because of the recent passing of his brother, snowboarder Chelone (Chilly) Miller, who was 29 when he died of a seizure last year.
Miller: "This [medal] was a little different. I think, you know, my brother passing away — I really wanted to come back here and race the way he sensed it. So this was a little different."
Cooper: "Bode, you're showing so much emotion down here, what's going through your mind?"
Miller: "A lot, obviously. Just a long struggle coming in here. Just a though year."
Cooper: "I know you wanted to be here with Chilly really experiencing these Games. How much does it mean to come with a great performance for him, or was it for him?"
Miller began to cry.
Miller: "It's just a tough year. I don't know if it's really for him. I just wanted to come here and, I don't know, I guess make myself proud."
Cooper: "When you're looking up in the sky at the start … it just looks like you're talking to somebody, what's going on there?"
At this point, Miller's emotions overtook him as he blocked his face from the camera and double over crying. Cooper quickly apologized to Miller and comforted him until his wife came and hugged him. It was supremely emotional. 
While Cooper's intentions seemed innocuous, many critics took to Twitter to express their outrage with the NBC analysts' actions during the interview.
Someone even updated Cooper's wikipedia page with some editorialized thoughts.
But after the Twitter storm died down a little bit, Miller went on his own account to try to set the record straight:
Miller also retweeted one fan's smart analysis of the whole situation.