How to Fake Your Way Through Oscar Season in 9 Easy Steps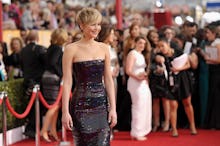 For some movie buffs, late February is the most glamorous time of the year: weeks of beautiful gowns and celebrity drama leading up to an evening of classic Hollywood pageantry.
For other movie buffs, perhaps of a more cynical variety, awards season is nothing more than a series of expensive, self-congratulatory promotional events. But whichever side you're on, it's impossible to dodge the near-constant conversation about the Oscars. And for those of us who aren't exactly up to date, that can be daunting.
Every Oscar season is like its own major motion picture with its own plots, lead characters and tragedies. There are a lot of great storylines behind this year's Oscars, so here is the definitive list of buzzing topics for the 2014 Academy Awards:
1. The Vatican is supporting the dark horse contender for Best Picture.
Judi Dench was dynamic and beautiful in Philomena (does she even know how to be anything else when acting?) and it's definitely Best Picture worthy, even though it's the dark horse.
But the story of Philomena Lee searching for the son that was taken from her and sold by the Catholic Church is true. And it's just reached a surprising conclusion.
Because of publicity from the film, the real Philomena Lee just met Pope Francis at a screening of the film at the Vatican. And the Catholic Church acknowledged the fact that its past policies did real damage to real people. Just another reason to love this beautiful film.
2. Sandra Bullock, Steve McQueen and David O. Russell are talking smack.
Sandra Bullock and her cohort of super legitimate film makers recently announced that there was a need for more "grown-up esoteric films," which is more or less a slap in The Wolf of Wall Street's face. 
But they aren't wrong. When viewed as a whole, Best Picture usually goes to sprawling epics with high entertainment value (Ben Hur, Return of the King, Titanic) and rarely films with real social relevance like McQueen's 12 Years a Slave. While there have been definite exceptions to that rule (The Hurt Locker and No Country For Old Men), the dominant track record favors films like Scorcese's over the heavy dramas McQueen and Bullock brought to life.
3. Lupita Nyong'o from '12 Years a Slave' is absolutely amazing.
Lupita Nyong'o, the quadrilingual Kenyan/Mexican newcomer for Best Actress in 12 Years a Slave, is not actually a newcomer. While 12 Years a Slave marks her first big acting gig, this insanely talented young woman has been writing and directing films and music videos for several years, while also receiving her MFA in acting from Yale University.
Basically she's one of those amazingly prolific women who, whether she wins an Oscar or not this year, will be on our radar again very soon. Also, she's a Harper's Bazaar Best Dressed regular who might also be dating Jared Leto. Basically, she's won, whether or not she gets the award.
4. Bruce Dern was in a Hitchcock film.
Bruce Dern, star of the indie film Nebraska and nominee for Best Actor, has had a pretty interesting and extremely long film career that's only just cresting. But in a night where everybody is going to try and be as classically Hollywood as possible, Dern is about as classy as they come: He's been acting since the '60s, and was even in Hitchcock's Family Plot.
The 77-year-old actor has been around for a while. Comedy geeks will remember him for his role in one of the greatest comedies of all time (The Burbs with Tom Hanks And Carrie Fisher), but most everyone else will know him as the polygamist father on Big Love.
Although this is his second Oscar nomination, this is his first for lead actor and his first since 1978. As an aside, you probably know his daughter Laura Dern, the popular '90s actress from October Sky and Jurassic Park.
5. '12 Years a Slave' had some crazily passionate acting.
Chiwetel Ejiofor and Michael Fassbender's commitment to their roles in 12 Years a Slave was extreme. In preparation for his role, Ejiofor read slave narratives, learned to play the violin, studied histories of slave rebellions and spent time picking cotton and chopping down trees to try to understand the physical demands of his character.
Michael Fassbender, although experienced in Steve McQueen's emotional filming process (Hunger, Shame), was so intensely focused on his portrayal of Epps that following one particularly difficult scene between Epps and Patsey, Fassbender collapsed and momentarily lost consciousness.
6. The Woody Allen controversy might cost Cate Blanchett Best Actress.
The favorite for Best Actress is Cate Blanchett for Woody Allen's Blue Jasmine; she's already won a BAFTA and a Golden Globe for the role, but the recent controversy surrounding Woody Allen's alleged abuse has potentially marred the performance's chance at recognition.
Precedent suggests that it could still be recognized. In 2002, Roman Polanski won Best Director for The Pianist, regardless of the fact that he was convicted for sexually assaulting a minor in 1977. But Allen's controversy actually re-emerged because he won a Golden Globe, so there's a fair incentive not to reward his work again this season.
7. Jennifer Lawrence and Daniel Day-Lewis will be presenting awards.
Every year, the previous year's best actress and best actor present their respective award to the newest winners. This year, Jennifer Lawrence (Silver Linings Playbook) will present despite also being nominated in the Best Supporting Actress category. The normally reclusive Daniel Day-Lewis (Lincoln) will be presenting, which is pretty cool considering that he didn't even show up to receive his award in 2009 for There Will Be Blood.
8. Matthew McConaughey might finally be taken seriously.
This has been Matthew McConaughey's year for his most emotional and gritty roles yet following on the heels of two years of increasingly substantive performances. Not that we didn't love How to Lose A Guy in 10 Days, but following Mud (2013) which was critically acclaimed, his current darker-than-dark role in HBO's True Detective and his turn in Dallas Buyer's Club, he's finally up for an Academy Award.
He deserves it — after all, he gave up his biceps for it. And he's become a powerful dramatic actor in the process.
9. Even losers get a free trip to Vegas.
This is a good tidbit to interject whenever you're over your head in an Oscars conversation: Every nominee at the Academy Awards receives a gift bag, win or lose.
These gift bags are like everything in Hollywood: expensive. This year, the gift bag recipients (again, everyone) will be receiving roughly $55,000 in items like trips to Las Vegas and Hawaii, organic pet care products (don't ask), a ghost story graphic novel and dozens of other random products. Basically, each is less a gift bag and more a gift-moving truck.