Obama Is a HUGE 'True Detective' and 'Game of Thrones' Fan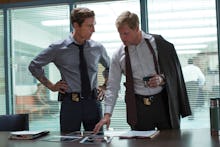 The news: HBO's True Detective has three more episodes before season one ends, and Game of Thrones premieres April 2. But President Obama doesn't want to wait. He wants his TV, and he wants it now.
At last week's state dinner for French President Francois Hollande, Obama reportedly asked HBO's chief executive Richard Plepler for advance copies of the two shows so he could catch up over President's Day weekend. Whether Plepler obliged or not is unclear, but if anyone could convince him to do so, it would probably be Obama.
The commander-in-chief is a well-known television fan. He's frequently stated his affinity for Homeland, the acclaimed Showtime drama about CIA agents and their counterterrorism exploits. TV Guide reports that one of that show's stars, Damian Lewis, was granted a seat directly across from the president at a 2012 state dinner honoring British Prime Minister David Cameron. "[My wife and I] were sort of like guests of honor," said Lewis. "The whole thing was very surreal and remarkable."
The president's appreciation for dark cable dramas reads like a who's-who of the past decade's most celebrated series: His all-time favorite is The Wire, but he's also reportedly a fan of Breaking Bad, House of Cards, and Boardwalk Empire. True Detective and Game of Thrones fit this mold nicely, as both grimly explore the moral complexities humans face when confronted by the worst in each other.
On the other hand, the president's daughters, Sasha and Malia, lean more towards lighthearted network sitcoms like Parks and Recreation and Modern Family, so he enjoys those as part of a family-viewing regimen.
Obama's viewing preferences give intriguing insight into the mind of a president. The New York Times observes that instead of providing an escape from "the sadness and strife that make up so much of his workday," these shows allow the President to revel in it. Maybe a hint of longing underlies his tastes as well: "I wish things here were that ruthlessly efficient," Obama joked to Netflix CEO Reed Hastings, regarding House of Cards. "This [Frank Underwood's] getting a lot of stuff done."
Sadly, life is never as simple as it looks on TV. Especially, it seems, in Washington.