In Awful Act of Protest, Florida Artist Smashes Ancient Ai Weiwei Vase Worth $1 Million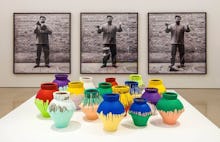 On Sunday, a Florida artist smashed an ancient vase modified by dissident Chinese artist Ai Weiwei as an apparent act of protest against Miami's art museums. At this point, those familiar with Ai Weiwei's work are likely thinking about pots, kettles and their shared color of black.
WSVN-TV - 7NEWS Miam Ft. Lauderdale News, Weather, Deco
Ai Weiwei, who remains in a hostile relationship with Chinese authorities, is famous for his controversial art in protest of Chinese politics. After viewing Ai's iconic series of three photographs in which the artist smashes an urn from the Han dynasty, Maximo Caminero, 51, smashed one of Ai's "Colored Vases" on display at the Perez Art Museum to spontaneously protest the lack of local artists featured in Miami museums. Apparently, Caminero had no idea that the vase was from the Neolithic period (5000 to 3500 B.C.) and worth $1 million.
... Oops.
"I saw [Ai's photographs] as a provocation to join him in an act of performance protest," Caminero told the Miami New Times. "I did it for all the local artists in Miami that have never been shown in museums here." 
But though perhaps inspired, Caminero's act is completely misguided; Ai Weiwei does not support artists destroying other artists' work. And protest-smashing a vase because it represents the corruption of a government is, well, little different from protest-smashing an art installation because your own art wasn't featured in the same museum: One act is a political gesture, the other is like a temper tantrum. 
Caminero has since expressed regret: "I thought it was a common clay pot like you would find at Home Depot, frankly," he said. He continued to say he admired Ai Weiwei's work and respected him as an artist.
Clearly, respect and understanding don't go hand-in-hand.
Image Credit: Photobucket