5 Amazing Activists Arrested in Sochi for Standing Up to Russia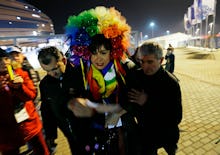 With only six days left for the Olympics, it seems the Russian government is less concerned about its human rights appearance. In a police crackdown silencing dissenting voices, Putin's regime has detained several activists. Detained separately in the span of less than a week, these "hooligans" are lawmakers, geologists and community leaders desperately trying to capture the media's attention. Can Russia quell resistance by continuously arresting it? 
1. Pussy Riot Members
On Tuesday, Maria Alyokhina and Nadezhda Tolokonnikova, members of the Russian feminist punk protest group Pussy Riot were arrested. About 10 plain-clothes officers approached the pair as they were meeting with journalists. Mentioning an alleged robbery at the hotel the two were staying, the police put the activists in a police van and drove off. Tolokonnikova posted photos as they were driven away. 
The pair was planning to record its first song in English called "Putin will teach you love the homeland."
Along with one other member, the two band members were thrown in jail for nearly two years for "hooliganism" and inciting religious protest after filming a music attacking Russia's orthodox church and Putin's human rights abuses in a Moscow cathedral. 
An anonymous band member "Tank" called CNN and reported that the band, activists and journalists were being held at the station. They were eventually released. 
2. Circassian Community Leaders
On Friday, Russian police arrested Asker Sokht, a community leader of the region's Circassian ethnic minority group. His arrest follows a series of police round ups of other Circassian activists who had tried to organize protests against the Sochi Winter Olympics. 
The Circassian community in Russia of about 800,000 people was shocked at the news. Sokht was largely considered a political moderate, often defending Russian policy.  
"Even those who weren't strongly associated with the nationalist movement and were fairly assimilated in Russia interpret this as an insult to the Circassian people," a Circassian council leader in Maykop told CNN.
Displaced and marginalized, the Circassians accuse 19th century Russia of genocide against their community. The recent arrests, in which activists report violence, do little to amend their history or Russia's facade of political tolerance.
3. Gay and Trans Rights Activist
Vladimir Luxuria, a prominent Italian parliament member and activist for gay and trans rights was arrested while entering the an Olympic hockey arena. "It's OK to be gay," she shouted in English and in Russian while donning a rainbow colored outfit. Before speaking up, Luxuria did not draw much attention in her colored outfit expect for some comments from bystanders saying, "trans not good." 
Luxuria was taken away by four police men who apparently told her she should not wear clothes with slogans supporting gay rights.
4. Davi Khakim
Solo activist David Khakim was detained on Monday for protesting the recent arrest a local environmental activist (see below). Holding a poster in support of jailed Yevgeny Vitishko, the activist was taken into police custody and later sentenced to 30 hours of community service. Pickets are allowed under Russia's constitution, but have been banned as the Olympics draws international attention. 
5. Yevgeny Vitishko
Last week, Yevgeny Vitishko was sentenced to three years in prison for spray painting a fence in protest of the the Winter Olympics' environmental impact. The geologist is a member of Environmental Watch on North Caucasus activist group was charged (like the Pussy Riot) with "hooliganism."  He is currently on hunger strike in protest, entering his sixth day without food.