The "Principle 6 Movement" Looks Like It's Winning At the Olympics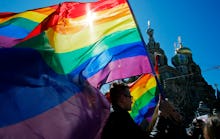 While the International Olympic Committee (IOC) has refused to address Russia's anti-gay legislation, it seems it is finally ready to take a stand against discrimination, at least at future Games.
On Tuesday, the committee announced that it may revise its policy so that future Olympic bid cities have to fully comply with the Olympic Charter, which considers "any form of discrimination with regard to a country or a person on grounds of race, religion, politics, gender or otherwise is incompatible with belonging to the Olympic Movement."
The IOC has been heavily criticized by many for turning a blind eye to the wave of protests against discriminatory legislation in Sochi. After more than a dozen LGBT protesters were arrested and beaten earlier this month, the IOC's media chief said that as far as the committee was concerned, the protesters "were quickly released" — thus absolving them of any need to intercede.
"I am glad to hear that the IOC has heard the message of the Principle 6 campaign loud and clear and I look forward to working with them to turn their comments into commitments," said Hudson Taylor, the founder of activism network Athlete Ally. "The integrity of the Olympic games is materially affected by the laws of host countries. But I am confident that by changing their policies, the IOC will be able to remain true to their principles."
Critics have pointed to Principle 6 of the Olympic Charter, which specifically points out that discrimination of any kind is contrary to the goal of the Olympics. Now, the IOC may make it a requirement for future host cities to actually abide by that principle.
"It is not something that is specifically looked at but if there is a groundswell of opinion it could be," said IOC spokesperson Mark Adams.
As of now, belonging in the Olympic Movement requires compliance with the Charter, although little has been done to really enforce it. In the lead-up to Sochi, the IOC has signaled that it values national sovereignty over making a sociopolitical statement. "The games should not be an occasion and a stage to promote rights that sports support daily," said Mario Pescante, the head of the IOC's International Relations Commissions, last month. He later added, "There are always going to be issues wherever the games are held."
Instead of engaging in a dialogue about whether Sochi is a safe environment for all attendees, or whether Russia actually embodies the Olympic spirit of inclusion and tolerance, the IOC has taken President Vladimir Putin at his word — the same man who promised that while homosexuals can "feel safe and free here," they must "leave our children in peace" and respect "our traditions and our culture."
Though little can be done about Sochi — there are only four days of competition left — the IOC's announcement signifies a move in the right direction. The IOC won't commit to anything certain for now, but it's at least promising to consider the idea that maybe Olympic host cities should not openly discriminate against people. And that's better than the PR spiel we've been getting over the past few months.