Check Out Jimmy Fallon's Insane Barbershop Quartet Cover of "Ignition (Remix)"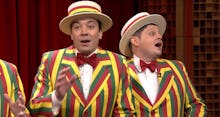 If anyone was concerned that Fallon would retire his goofy singing and dancing talents now that he's taken the post of The Tonight Show from Jay Leno, you would be dead wrong. Just one episode into the new show, Fallon hit one of the biggest homeruns of his viral video career with this hilarious barbershop quartet remix of R. Kelly's "Ignition (Remix)." Watch it here:
The merging of this rather raunchy classic with barbershop harmonies is classic Fallon goofy genius. His musical chops and gift of impersonation (see his Springsteen impression) are no joke, though — "It's a little bit of a thing with comedians, that many of them are closet musicians who want to be in bands," Paul McCartney told Vanity Fair."It goes back to Peter Sellers, who wanted to be a drummer, so he became friendly with Ringo. But Jimmy, from what I've seen, has more than the usual closet-musician ability."
But beneath his superb musicianship and on-point sketches is a deep understanding that his core demographic may not be up late watching live. Fallon has reinvented late night by building his show off easily digestible, viral-enabled clips like his a-cappella version of Miley Cyrus' "We Can't Stop" with the Roots or the more recent Evolution of Hip Hop dancing with Will Smith. In other words, he's the talk show host of the Internet generation, displaying a savvy — sorry Conan — matched by no one.