'Guardians of the Galaxy' Could Be the Biggest Risk Marvel Has Ever Taken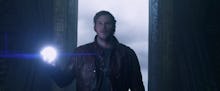 The first official Guardians of the Galaxy trailer has arrived, and it's like no other Marvel movie. The trailer, which premiered on Jimmy Kimmel Live Tuesday night, is rife with snark and humor delivered by the unlikeliest superhero of all: Chris Pratt.
Pratt stars as Peter Quill, aka Star-Lord: a half-human half-alien adventurer who steals a powerful orb from the villain Ronan the Accuser (played by Lee Pace) who must band together with a group of rag-tag misfits to escape Ronan's evil grasp and save the galaxy. Star-Lord's gang of guardians includes Gamora (Zoe Saldana), Drax the Destroyer (WWE star Dave Bautista), Groot (Vin Diesel) and Rocket (voiced by Bradley Cooper). Pratt may not seem like an obvious choice to carry a superhero film, but he only proves that the studio is looking to change their formula in a big way.
Guardians is a fresh take on the Marvel universe. It translates the oddball elements of the original comics from page to screen. It's more playful and funny than most superhero movies (which, thanks largely to the Batman Begins trilogy, have been taking themselves pretty seriously recently), but the trailer promises that it will be just as action-packed as The Avengers. Still, Bradley Cooper as a talking, gun-toting raccoon is a pretty big shift.
Comedy has always been an essential part of the Marvel universe, and it's been lost in epic global blockbuster franchises like Iron Man, The Avengers, Thor and Captain America. Now, Marvel is clearly hoping Pratt will bring his comedic touch from Parks and Recreation and The Lego Movie into the realm of superheroism. Plus, he's got a new, buff bod.
We think it's a recipe for success.
The film, due in theaters August 1, also stars Djimon Hounsou as Korath, Benicio del Toro as the Collector, Glenn Close as Nova Prime Rael, John C. Reilly as Rhomann Dey and Doctor Who star Karen Gillan as Nebula.