11 Powerful Photos of Religious Tolerance Around the World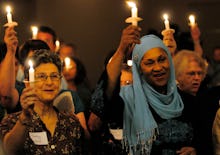 Ask a 20-something American what religion means to them, and chances are they'll say something like, "a thing of the past," or, "It's not important." In fact, 19% of the U.S. population rejects faith and is deeply skeptical about it. This demographic of nonbelievers, also called the "nones" because of their survey responses, is growing faster than any other religion. You'd think religion was on its way out. 
The reality is religion is very much alive, and a mixture of hatred and fear of other religions is spurring conflicts across the globe as you read this. Extremist Christian militias in the Central African Republic are waging war on Muslims in an act they call revenge. A controversial book titled The Hindu and Penguin publishing house's subsequent decision to pull it from shelves have sparked global outrage. A bill in Israel to legally distinguish between Christian and Muslim Arabs is advancing in Israel's parliament. A flight was grounded yesterday after schoolchildren panicked upon seeing a man (a masters student in Iranian studies) write in Arabic in his notebook. The list goes on. 
The global community has the same goal: to stop these conflicts. While those in power need to address these conflicts and stop them where possible, is this enough? Can a mostly responsive strategy, where Band-Aids are applied to broken bones, work in an increasingly diverse world?
Forgiveness, compassion and peace (yes, I am absolutely serious) are more than universal values or world ideals. They're security solutions. Teaching them might be the strongest cure for religious wounds, allowing people to stop the cause of conflict before it starts, foregoing revenge or "justice." If the world doesn't know what peace looks like, it can't try to achieve it. Here's a quick look: 
1. Religion as a Force of Peace
A woman holds a sign that reads, "We love each other," in Tahrir Square during the 2011 uprising against former President Mubarak. 
2. Creating New Alliances
Different religious members talk at an interfaith event. 
3. Natural Friendships
Two friends, a Christian and a Muslim, outside Ethiopia's national museum. 
4. Protesting Conflict
Protesters hold a large "Coexist" banner at a 2002 anti-war rally. 
5. Creating Policy Solutions
A snapshot of the United Nation's Interfaith Conference on Climate Change. 
6. Celebrating Unique Backgrounds
An image of from the Trust-Emun's Women's Interfaith Conference, where more than 60 Jewish, Christian and Druze members celebrated their different faiths together. 
7. Sharing, Not Eliminating, Difference
A Muslim student and Jewish Holocaust survivor holding hands in Auschwitz-Birkenau during a remembrance event. 
8. Uniting in the Most Basic of Situtations
Interfaith athletes play in the Vatican's cricket club.
9. Coming Together in Times of Crisis
In the wake of the 2013 Boston bombings, religious leaders held a public interfaith prayer service. 
10. Sharing Different Experiences
A Pakistani Islamic cleric joins a bishop and other minority leaders to cut a cake at an interfaith Christmas dinner in Pakistan. 
11. Rewriting History
Children in a Kurdistan interfaith camp dance together.