The IOC's Insane Response to the Brutal Whipping of Pussy Riot Is Unacceptable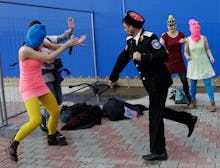 The Olympic Committee made it clear. Their hands are clean of all things human rights related in and around Sochi. It turns out that the repeated messages of unity and equality made during Sochi's breathtaking (and rather psychedelic) opening ceremony were nothing more than mere lip service. How else could the Olympic leadership justify the beating and whipping of Pussy Riot in downtown Sochi in front of the official Olympic rings?
As members of Pussy Riot started to perform their song "Putin Will Teach You to Love the Motherland," the Cossacks, an informal right-wing militia group that the Russian police have hired to help keep order at the Olympics, swarmed in and attacked them. The militia ripped their face-covers off, pepper sprayed them, threw them to the ground and repeatedly whipped them.
The lyrics of the song protest Russia's anti-gay laws, the country's intolerance for dissenting voices and mass surveillance and security.
International Olympic Committee spokesperson Mark Adams called the attack "very unsettling," but "not an Olympic issue." Instead, Adams called the attack an issue for the Russian government to handle.
He continued, "It's a shame if the Olympics is used as a political platform. We saw the strong feelings, on both sides, these things can provoke." There you have it, folks.
This morning, members of Pussy Riot held a press conference, coinciding with the release of their new music video. They described their attack as intricately tied to the Olympics.
"The Olympics have turned an authoritarian regime into a totalitarian regime with preventative arrests," Nadezhda Tolokonnikova said at a news conference in the streets, after the group could not find a venue that would host it.
"The Olympics creates a space for the complete destruction of human rights in Russia. Here we are, banned from speaking out. Here, everyone's rights are banned, including political activist, LGBT representatives, ecologists," she added.
The Olympic Committee repeated that it does not like having the games used as a platform to express political views. What's a little whipping of human rights activists have to do with international games promoting world peace and equality, right?