The Story Behind This Iconic and Viral Ukraine Protest Photo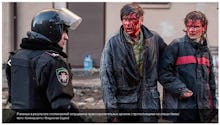 The protests in Ukraine have taken a deadlier turn this week, and one image in particular has captured the Internet's attention: that of a blood-drenched father and son walking past a Ukrainian officer in riot gear.
Taken by a Reuters freelancer named Vlad Sodel, the photo highlights not only the devastation and violence in Kiev, but also how civilian and government forces have been pitted against each other.
Since the photo was posted online on Tuesday, it has gone viral on Reddit and Twitter, and has gone on to be used at news outlets such as the Atlantic, Business Insider and the New York Daily News to represent the horrors of "Bloody Tuesday."
"This is the kind of photograph that ends up in history books for decades to come," wrote one Redditor.
So who are the civilians in this photo? Internet sleuths have identified the father as Mykola Kuznetsov, a professor at the National Academy of Sciences of Ukraine. It has not been determined whether Kuznetsov and his son were participating in protests, or whether they were just bystanders caught in the crossfire.
But the Daily Dot has been able to find footage of them in the aftermath, being treated by paramedics. Hopefully they were able to make it home safely:
Despite a temporary truce that President Viktor Yanukovych called on Wednesday, violence has resumed in the streets of Kiev, especially around Independence Square. After gunfire erupted on Thursday morning, the protesters announced that 100 people died and 500 were injured in the attack. Official counts have not been released yet.
Our thoughts are with everyone in Ukraine.