Google Fiber Says It Will Try to Expand in These 34 New Cities. It's About Damn Time.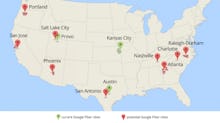 Google is taking high-speed Internet to the next level, announcing this week that it plans to consider extending its ultra-high-speed Google Fiber network to 34 new cities across nine major metropolitan areas.
Among the areas under consideration are Portland, Ore.; San Jose, Calif.; Salt Lake City, Utah; Phoenix, Ariz.; San Antonio, Texas; Nashville, Tenn.; Atlanta, Ga.; Charlotte, N.C.; and Raleigh-Durham, N.C.
In an announcement released Wednesday, Google said, "We've invited 34 cities in nine metro areas across the U.S. to work with us to explore what it would take to build a new fiber-optic network in their community ... Many of these cities asked for Google Fiber in 2010 and have since continued to try to bring better Internet access to their residents."
In theory, fiber-optic Internet cables run at speeds up to 100 times faster than cable. But Google Fiber is in an exploratory phase, and it hasn't yet laid the groundwork to begin meeting demand for its services. That might be why Google has an extensive list of requests for all the cities under consideration:
- "Provide detailed, accurate maps — e.g. of existing infrastructure like utility poles, conduits, and water, gas and electricity lines.
- Ensure the company can access and put its fiber on existing poles or conduits — since it doesn't want to dig up streets unnecessarily or put up duplicate poles.
- Review permitting processes to make sure cities can handle as much as 100x their usual number of permit requests — once it starts building, Google wants to move quickly and on a predictable schedule."
These special considerations are just the tip of the iceberg. In Kansas City, Google received free right of wayand office space, the ability to manage road traffic to make installation easier and a team of city employees operating on its behalf. It also made the city government review permit requests within five days, and got free access to city assets like mapping software and municipal services. All this amounts to a massive "implicit subsidy" for Google, writes Ars Technica's Timothy B. Lee. But such concessions are likely the price any city will have to make in order to attract a company willing to re-wire an entire metro area's Internet grid.
And the pay-offs are big: Kansas City customers got gigabit Internet — speeds you probably won't get from ISPs like Time Warner Cable, ever — for just $70 a month. Imagine downloading an entire movie in mere seconds.
Google plans to "bring Fiber to all of these cities, and would be prepared to build in each of them." But the price of admission is going to be essentially helping Google pay for it. That's why small cities, where Google has more influence and can more easily test its technology, are the testing grounds for this round of Google Fiber's development.
And while Google Fiber might not be coming to New York City or Los Angeles anytime soon, it's definitely spooking major cable companies. Perhaps sensing the threat, big cable is already backing legislation to try and cut off further Google Fiber expansion in Kansas, and it will doubtless bring the fight to the other 34 planned expansion sites in the near future.
From Ars Technica, the 34 cities under consideration are: Phoenix, Scottsdale and Tempe in Arizona; San Jose, Santa Clara, Sunnyvale, Mountain View and Palo Alto in California; Atlanta, Avondale Estates, Brookhaven, College Park, Decatur, East Point, Hapeville, Sandy Springs and Smyrna in Georgia; Nashville-Davidson in Tennessee; Charlotte, Carrboro, Cary, Chapel Hill, Durham, Garner, Morrisville and Raleigh in North Carolina; Portland, Beaverton, Hillsboro, Gresham, Lake Oswego and Tigard in Oregon; San Antonio in Texas; and Salt Lake City in Utah.