Ukrainian Skier Drops Out of Sochi in Protest Against Violence in Kiev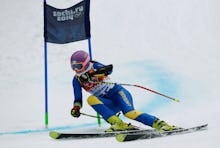 With violence escalating in her homeland, Sochi competitor Bogdana Matsotska decided to take a stand against her government — the alpine skier announced on Thursday that she will be dropping out of the Olympics, just a day before the slalom event.
"My friends are there at the Maidan, people I know, close friends of mine. To go on the start line when people are dying and when the authorities broke the main rule of the Olympic competition, which is peace - I simply cannot do it," she told Reuters.
Matsotska competed in the 2010 Vancounver Olympics, though she did not medal. Both she and her father, Oleg Matsotskyy (who is also her coach), are against President Viktor Yanukovych and the violent tactics that the riot police have employed to quell demonstrators.
"I stand against these horrible actions that Yanukovich and his government are taking against our Ukrainian people. ... I don't want to enter the competition under such terrible circumstances," Matsotska added.
Though she had been wanting to join the protest in Maidan, she said she had been unable to book a flight home, and that she will be remaining at the athletes' village for the time being.
On her Facebook page, Matsotska also wrote that Yanukovych, "drowned the last hopes of Ukrainians in blood instead of solving the conflict through negotiations with the Maidan — which we had hoped for till the very last when we went to the Olympics in Sochi. He has violated the eternal rule of the Olympics — Peace during the Games." She also posted this photo of the two holding the Ukrainian flag:
Image credit: Facebook
Matsotska is not the only Ukrainian athlete speaking out about the violence in Ukraine. The 43-member delegation held a moment of silence for the victims in Kiev, while black ribbons have been added to the Ukrainian flags that hang outside their building in the athletes' village.
But the team's request to wear black armbands in honor of the victims was rejected by the International Olympic Committee, which said it was an inappropriate form of protest. Asked whether athletes would be penalized for wearing armbands, IOC spokesperson Marks Adams said it would be "a hypothetical."
While both IOC and the Ukrainian National Olympic Committee (NOC) said the decision to leave the competition was up to the individual athletes, the NOC website posted that it was "best to honor them [the victims] on the fields of play here in Sochi."
Matsotska's announcement comes on the bloodiest day of the conflict in Ukraine, with more than 100 people reportedly dead in a single attack.